Beat the Couch has launched Season 7 of their popular beginners running program with a new sponsor, Bermuda Telephone Company.
In addition, two group cups have been added to the awards list – the Corporate Cup and the Family & Friends Cup. Teams of five will go head to head to compete for the trophies which will circulate in offices and homes around the island.
Catherine Burns, Founder of Beat the Couch and Managing Director of Natural Ltd said "We are really delighted to welcome the Bermuda Telephone Company on board as our sponsor for Season 7.
"Digicel and BTC have a tremendous amount of energy and a really dynamic team so I am looking forward to what we can achieve together.
"Beat the Couch is well-known for its camaraderie and success rate and we are building on that this Season with the Corporate and Family & Friends Cups. It's going to be an exciting 10 weeks!"
Although group points will be awarded for performance on race day, points will also be allocated for participation and progress. It won't necessarily be the fittest teams that win, but the teams that demonstrate the most commitment, team spirit and progress.
Digicel's Shane McDonnell and Catherine Burns, founder of Beat the Couch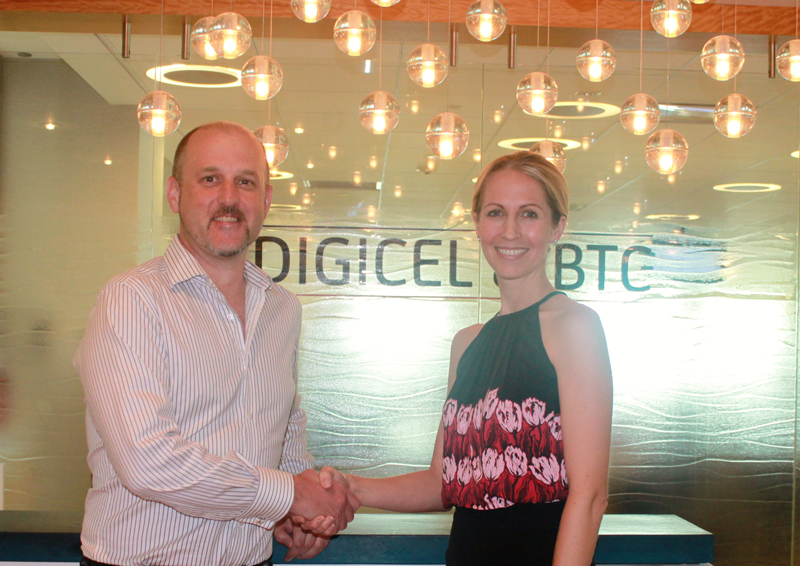 Sergio White, a group trainer who has been with Beat the Couch since day since day one, said, "You don't have to be fit to take part in Beat the Couch, but you do have to be ready for a challenge and willing to bring your A-game.
:Regardless of your size or shape, you'll see a huge improvement in your fitness level as the weeks go by. Our program works. We've proved that over and over again and we love what we do."
Robin Seale, CEO of Digicel and BTC, said, "We are proud to support Beat the Couch. We've witnessed this program go from strength to strength and believe it focuses on an essential demographic in our community.
"The obvious enjoyment and satisfaction of the participants and the expertise of the trainers sets a gold standard for Bermuda. That's a standard we endorse and aim for too."
Beat the Couch, which runs twice a year, is designed to get more sedentary people off the couch and ready for a 5k run in 10 weeks. On race day, participants run ahead of a real couch-on-wheels pushed by top local runners Chris and Ashley Estwanik.
The coaches [Sergio White, Xande Frith, Amy Stathakis & Catherine Burns] provide running expertise, nutritional support and motivation. Participants choose three training sessions a week from a schedule of ten, with podcast back-up for travel or other commitments. The program welcomes both individuals and teams.
Read More About