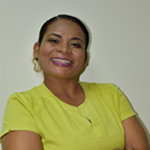 Bermuda's Fresh Breath Dental is welcoming its newest dental hygienist, with Ms. Keisha Davis bringing seven years of experience to the clinic.
A spokesperson said, "Ms. Keisha Davis is a dental hygienist with seven years experience. She obtained an Associate of Science Degree in Dental Hygiene from Northern Caribbean University in Jamaica.
"From 2010 to 2014 Ms. Davis worked as a dental hygienist in Jamaica followed by a brief period in Bermuda before returning to Jamaica. Ms. Davis is now joining Fresh Breath Dental located on 1st floor Cedarpark Centre, 48 Cedar Avenue [Cedarparkade].
"Ms. Davis joins with a vast knowledge in the dental field and looks forward to bringing her skills to service the community in Bermuda. Fresh Breath Dental welcomes Hygienist Davis to our team."

Read More About