[Updating: The PLP's Diallo Rabain has won] Voters are heading to the polls today [Feb 4] for the by-election in Constituency 13 Devonshire North Central, with Diallo Rabain standing for the PLP, while Andrew Simons is the OBA candidate.
The by-election was prompted by the retirement of PLP MP Glenn Blakeney, who submitted his resignation letter to the Speaker of the House, confirming his retirement effective December 7th of last year.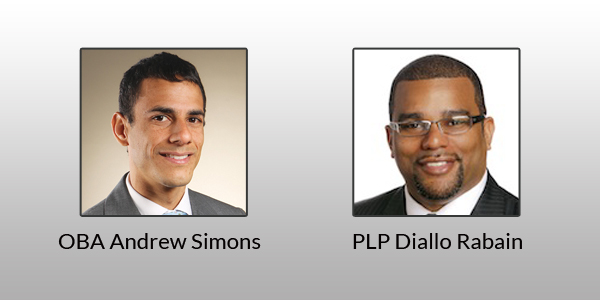 Past Election Results For Devonshire North Central
In the 2012 General Election, Mr Blakeney defeated the OBA's C. Anthony Francis by a margin of 19 votes, winning 51.18% of the vote [411 votes], while Mr Francis won 48.82% of the vote [392 votes].
In the 2007 General Election Mr Blakeney won 53.52% of the vote vs the UBP's Albertha Waite, and in the 2003 General Election Mr Blakeney won 57.22% of the vote vs the UBP's Hilary Soares.
Elections held prior to 2003 were held under a different system than we have now, with Devonshire divided into two areas [Devonshire North and Devonshire South] with both constituencies electing two MPs.
Past election results show that under the two-MP system, Devonshire North voters elected PLP MPs, while Devonshire South residents voted in UBP MPs.
Devonshire is now divided into four constituencies [Devonshire North West, Devonshire North Central, Devonshire South, Devonshire East] with all four constituencies electing one MP.
Since the one MP system was implemented in the 2003 General Election, Devonshire North Central has elected a PLP MP three times.
Your screen will automatically refresh with the latest updates:
Read More About