[Opinion column written by Andrew Simons, the OBA candidate for C#13 by-election]
The most important thing any government can do for its senior citizens is to protect their quality of life.
What is clear from all the people I've spoken with in recent years — seniors and their families, medical practitioners and health officials — is that seniors need watchdogs in the ranks of government to ensure that protection.
But seniors also need champions, those who will fight to make sure their concerns are addressed with action, not just words.
Advocating for the vulnerable is the most important reason I entered public service; it is the core motivation I will bring to government, should the people of Devonshire North Central support me in the February 4 by-election.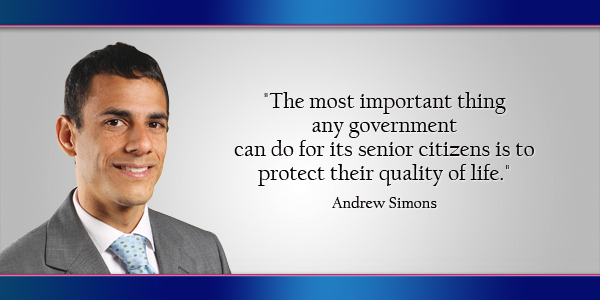 For inspiration and strength, I hold dear the example of the late, great Louise Jackson. Mrs Jackson's work on behalf of seniors showed what can be done by one person carrying the fight for many. I served with Mrs Jackson on the Bermuda Health Council [BHeC]; we shared a concern for seniors and the less privileged.
Mrs Jackson was the go-to person for any senior needing guidance, protection or a voice. Over the years, they went to her by the hundreds because they trusted her to voice their concerns and, when necessary, take on the powers that be. I know that she would be proud of me for my role in encouraging the BHeC to prosecute employers who do not provide health insurance for their employees as required by law. Seeing employers found guilty of not providing health insurance would have pleased her enormously.
The role that Mrs Jackson played is as necessary today as it was when she lived: keeping people on their toes and carrying the fight for those who need it most.
Making sure that fighting spirit continues is a big part of why I'm running for office. Now more than ever, when Bermuda's economic trials are forcing us to make tough choices, we want people in government with a clear understanding of the challenges people are facing. Staying close to each and every constituent is the key. I will be available to you any time, all the time. I will listen and I will act. Much about my life has led me to this point.
My time as a member and now deputy chairman of the BHeC has given me high-level understanding of healthcare issues, as well as ideas to get the system working even better and more efficiently.
My years in the Royal Bermuda Regiment showed me the importance of co-operation and teamwork — qualities I'd like to see more of in our parliamentary system. I have also seen my troops struggle to earn enough to support family members in three generations — infants to seniors.
My school years at The Berkeley Institute and beyond instilled in me a hunger to solve problems.
But problem solving is no easy task, especially for seniors. Everywhere they look today, economic forces are working against them — in the high cost of prescription drugs, food and electricity; in pensions that are inadequate and in residential homes that need to get better.
In the face of these challenges, I am excited to show I have the ideas, skills and energy to help them.
If I am fortunate enough to earn the support of Devonshire North Central, I look forward to working with Jeanne Atherden, the Minister of Health, Seniors and the Environment. She is a thoughtful, diligent and caring person, who, with the support of many good people, is working hard to ease the challenges facing seniors.
You can see their work in plans to make sure that rest-home staff are qualified to provide the specialised care seniors need.
You can see it in their plan to increase specialist visits for preventive care and better disease management.
And you can see it the development of personal home-care services that will allow people to remain in their homes and reduce hospital stays.
All this good work represents steps on a long road to greater security and certainty for our seniors — for the best possible quality of life. It's a journey that will require compassion and continuing effort to ensure that every senior's golden years are just that — golden.
That's my goal, and the families of Devonshire North Central can count on Ms Atherden, the minister, and me to be both watchdogs and champions to make it happen.
I look forward in the weeks ahead to meeting with as many residents of Constituency 13 as possible. I'm doing my utmost to get to every door, but if you'd like to speak with me before I get to your home, call me at 294 3213.
I look forward to hearing from you and working for you.
- Andrew Simons

20 Most Recent Opinion Columns

Opinion columns reflect the views of the writer, and not those of Bernews Ltd. To submit an Opinion Column/Letter to the Editor, please email info@bernews.com. Bernews welcomes submissions, and while there are no length restrictions, all columns must be signed by the writer's real name.
-
Read More About