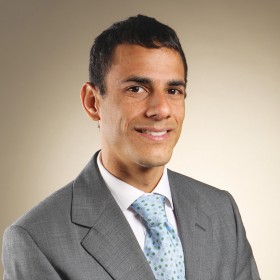 [Updated with video] The One Bermuda Alliance has confirmed that Andrew Simons will be their candidate for the by-election set to be held in Constituency 13 Devonshire North Central.
Mr Simons attended Stanford University in California as a Bermuda Government scholar and graduated in 2005 with a bachelor's degree in computer science and a master's degree in chemical engineering.
The by-election has been prompted by the retirement of PLP MP Glenn Blakeney, who submitted his resignation letter to the Speaker of the House, confirming his retirement effective December 7th.
The date of the Devonshire North Central by-election has not yet been announced, however the formal writ is likely to be announced in the coming days, while the actual by-election is likely to be held early next year.
In the 2012 General Election, Mr. Blakeney defeated the OBA's C. Anthony Francis by a margin of 19 votes, winning 51.18% of the vote [411 votes], while Mr. Francis won 48.82% of the vote [392 votes].
In the 2007 General Election, Mr. Blakeney won 53.52% of the vote versus the UBP's Albertha Waite, and in the 2003 General Election, Mr. Blakeney won 57.22% of the vote versus the UBP's Hilary Soares.
The PLP has already confirmed that Senator Diallo Rabain will be their candidate in the constituency.
Mr Simons full remarks are below:
Thank you for joining me in Prospect today. This is one of the vibrant, diverse, and close-knit neighbourhoods in Constituency #13, Devonshire North Central. I am honoured to have been selected to run here for the One Bermuda Alliance.

I am running for Parliament because I am passionate about public policy, and I recognize that many major problems can only be resolved through the political process. Bermuda faces some difficult decisions in the next few years in areas as diverse as reducing the debt and providing services to an aging population.

There are no simple solutions to many of these problems; we need to have island-wide conversations about the choices and tradeoffs we face. In addition, some of these problems will require cooperation between the Government and Opposition.

As an officer in the Royal Bermuda Regiment for the past six years, I have taken an interest in the welfare of my troops. I have seen them and their families struggle to find jobs, pay for health insurance, negotiate the court system, and keep a roof over their heads. Fortunately, the economy is improving under the OBA government. However, many people in the community continue to feel the impact of the great recession.

Folks are tired of "politics as usual". I believe that an MP's role is to serve his constituents, to listen, and to assist. I live in Devonshire, so I see the issues that are important to this constituency such as illegal dumping. I wish each constituent to know that I am available to assist with the personal challenges they face. I want to be a resource for them.

I believe that my education, work experience, service as an officer in the Royal Bermuda Regiment and membership on a number of government boards have a prepared me to serve the residents of Devonshire North Central and all the people of Bermuda.

I graduated from the Berkeley Institute before going to the Hotchkiss School in Connecticut. I attended Stanford University in California as a Bermuda Government scholar and graduated in 2005 with a bachelor's degree in computer science and a master's degree in chemical engineering. For two years I worked at EMC, a big technology company in Boston, before moving back to Bermuda eight years ago to work in reinsurance as a catastrophe modeler and risk analyst.

After returning home in 2007, I was called up by the Royal Bermuda Regiment and was commissioned as an officer in 2009. I have served as an immediate response team commander for the past two hurricane seasons, and was embodied during Hurricane Joaquin. I was recently promoted to the rank of Acting Captain.

As a member of the Bermuda Health Council, I am proudest of my role in encouraging the BeHC to pursue employers who do not provide health insurance for their employees. My experience on the board of CedarBridge Academy and the Pembroke Parish Council has shown me how challenging it can be to get things done in Government.

I believe that I have the skills, commitment, energy, and integrity to serve the interests of this constituency well.

I look forward to meeting all the residents of Devonshire North Central, from Prospect in the west to Loyal Hill and Chaingate Hill in the east, over the coming weeks. Until then, I wish everyone a Merry Christmas and a Happy New Year!
Update 12.12pm: Photos from today's press conference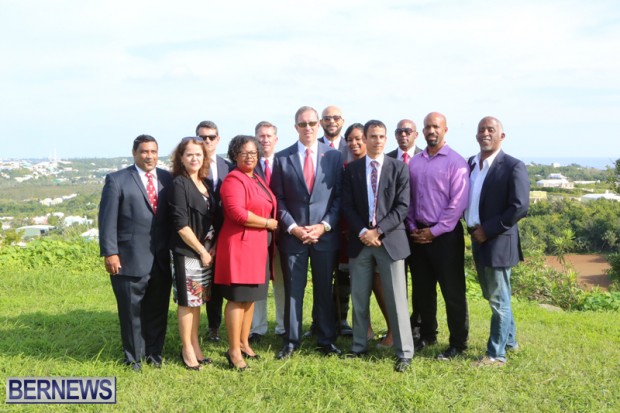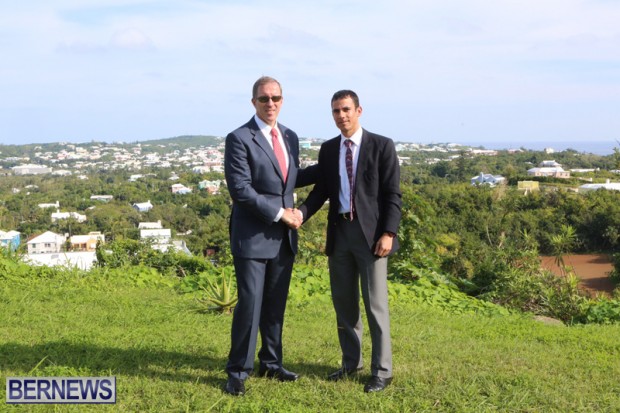 Update 12.53pm: In introducing Mr. Simons, Premier Dunkley said, "I am proud and excited to be here today to introduce the One Bermuda Alliance candidate for the Constituency 13 bye-election, Mr Andrew Simons.
"I'm proud because Andrew has emerged from a number of good people who put their names forward to be our candidate in this bye-election, and I am excited because he is an immensely capable young Bermudian whose candidacy, when you boil it down, is driven by love of country.
"Andrew is fired by a deep commitment to make Bermuda work better at every level and by confidence in his abilities to make a difference. I think you need that in politics – that fire and that belief to actually bring about change.
"It is for this reason that I am really pleased Andrew has thrown his hat into the ring for the one Bermuda Alliance. He brings a lot to the table. He is a highly trained individual, with Master level degrees in computer science and chemical engineering.
"He is a catastrophe modeller in Bermuda's reinsurance industry. His public service record reflects serious interest in public health issues and the economy, with seats on key government advisory boards. He is a member of the Cedarbridge Academy Board of Governors and he has served on community-based boards that work to help people.
"Andrew is also a recently promoted Acting Captain in the Bermuda Regiment. This broad experience will help him serve the people of Devonshire North Central. On that point I am proud to vouch for his good character and dedication to public service.
"Andrew will not let you down. He is a man of his word and a man of conviction, who understands the meaning of public service. He is a New Generation leader who carries a far-sighted commitment to building a Bermuda that works for people in every sphere of life.
"That's what we're working for as a government, and Andrew's candidacy is an opportunity to support that commitment.
"We are a government in mid stride; making progress on many fronts; in the midst of economic turnaround; with progress in public safety; new measures for open, transparent and accountable government; and the rebuilding of our tourism industry.
"There is a lot of big work happening, that will make this Island work better for all. I say let's keep it going. Support the recovery. Elect Andrew Simons to represent the people of Devonshire North Central, and help us keep working for you."
Read More About