"The OBA's candidate and the OBA's policies have been rejected," Opposition Leader Marc Bean following Diallo Rabain's victory at the Constituency 13 Devonshire North Central by-election last night.
Mr Bean said, "For the second time in two years Bermudians have been given the opportunity to let their voices be heard at the polls. And for the second time the OBA's candidate and the OBA's policies have been rejected.
"With a 11 percentage point swing towards the PLP, it is clear that many Bermudians perceive the OBA as a government that has broken too many promises, been caught in too many deceptions and failed to produce their much promised 2000 jobs.
Mr Bean stands by Mr Rabain as he speaks with the media last night: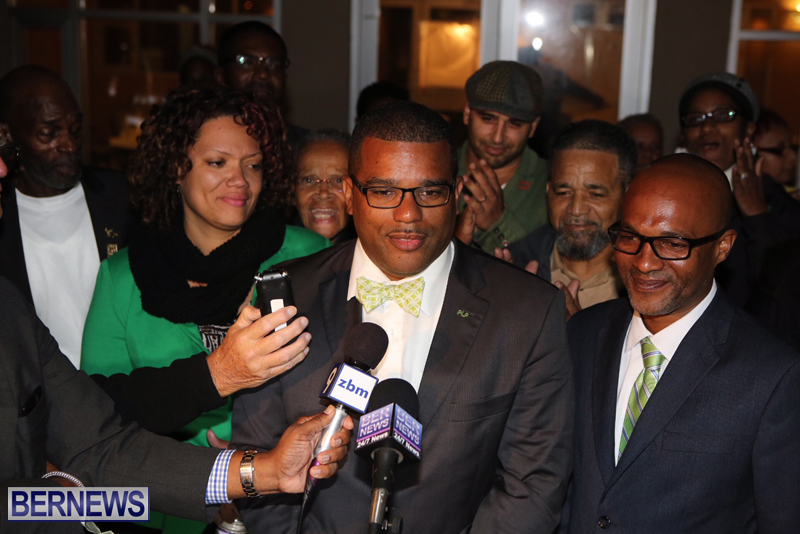 "After three years the OBA have a record. A record of doubling the debt that they promised to reduce. A record of losing nearly 2000 jobs instead of creating them. A record setting 48 year low in air arrivals
"Yet the results in constituencies 33 and 13 were not just a rejection of the OBA's record of failure, broken promises, deceit and anti-Bermudian policies. They were also a recognition that the PLP has grown and evolved since 2012.
"Bermudians are recognizing that:
The PLP have learned from our mistakes of 14 years of government and become more humble since being rejected in 2012
The PLP have a plan that is real, attainable and focused on improving the conditions of all and not just the few and not just friends and family
The PLP are putting together a team with the ability, work ethic, integrity and will to make our plan a reality
Mr Bean continued on to say that this victory for the PLP  "is a clear indication that the people of constituency 13 have not been swayed, and believe in the principles of good governance, social justice, and a Bermuda that works for Bermudians.
"We thank you for your support and we look forward to continuing the process of earning your trust, sharing our ideas and laying in place the foundation of a Bermuda that truly works for Bermudians."
Read More About