Saying they will be "looking at everything," Education Minister Wayne Scott urged people to submit their views on our education system as the Ministry continues their consultation process following the release of the school reorganization [SCORE] report.
The Minister previously said that closing Gilbert Institute, Prospect Primary School, St. David's Primary School and Heron Bay Primary School are among the possible scenarios of school reorganisation detailed in the SCORE report, noting that he is sharing the report's findings, and has "not made a decision regarding school reorganization or school closures."
Speaking outside the House on Friday, Minister Scott told Bernews, "Let me say, first of all that I can empathize with the concerns of parents. As any time you're talking about any possible change, it's something that brings angst and I appreciate that.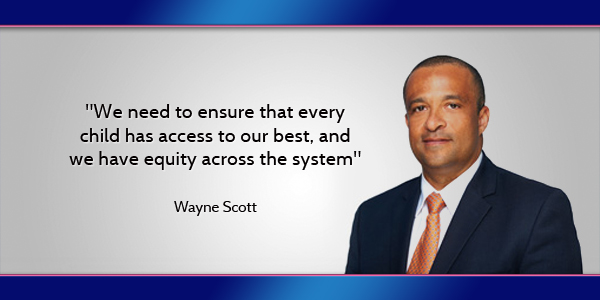 "It's important however, to recognize that although no decision has been made, there is the possibility of a decision," said the Minister.
"We still need to have registration information, I would encourage parents to still go out and register your children. It's an important part of the process, we need to actually know what the numbers are as we go through this.
"Let me further say that, understand that change is a difficult thing, however we have to figure out a way to get to excellence faster. We need to ensure that every child has access to our best, and we have equity across the system, and we don't have that right now.
"My role, my job, is to ensure that we provide every child with the best option that we can. Some scenarios have been presented, I would encourage our citizens, I would encourage the Shadow Minister, if they're not happy with some of the suggestions or some of the options that have been laid out, that is the whole purpose behind consultation, please submit your views, submit alternatives.
"We will be looking at everything with open arms, if you will. If you look at some of the changes that were made last school year with the preschools rolled up into primary schools, which happened in St. David's and in Hamilton, that information came out of the consultation process.
"I would encourage and challenge those to put your concerns forward, educationconsultation@moed.bm if you don't want to come out to the public meetings," added Minister Scott.
In addition to accepting feedback via email, Minister Scott will hold three consultation meetings on the issue of school reorganisation, which will take place at 6pm at CedarBridge Academy on the following dates:
Eastern Zone – Tuesday February 23rd, 2016
Central Zone – Wednesday February 24th, 2016
Western Zone – Thursday February 25th, 2016
All consultation submissions are due by March 4th, and can be emailed to educationconsultation@moed.bm.

Read More About