The Ministry of Health and Seniors launched the $aver the Flavour, Eat Well for Less initiative which is designed to help residents have a healthy, balanced diet at an affordable price.
This initiative has been developed by the Department of Health in partnership with community retailers, in particular with support from local grocers and wholesalers who will offer healthy item choices with their weekly specials.
The following businesses are participating, each in a unique way, but all will share the concept of promoting affordable healthy food options: Lindos, Miles, SuperMart, Market Place, Arnolds, Harrington Hundreds, Butterfield & Vallis and Dunkley's. Shoppers are advised to look for the $aver the Flavour logo in the weekly specials that are posted in the newspaper.
Left to right: Zach Moniz, General Manager of Lindo's, David Kendell, Director, Department of Health, Gary Schuman, President of Marketplace and Minister Jeanne Atherden.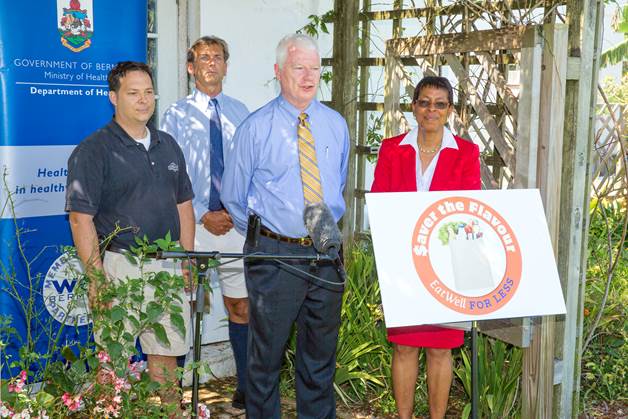 A $aver the Flavour launch event was held in the rose garden at Camden on Friday and Minister Atherden was joined by representatives of some of the participating grocery stores, Mr. Gary Schuman, President of the Marketplace stores and Mr. Zach Moniz, General Manager of Lindo's Family Foods, as well as PS, Dr. Jennifer Attride-Stirling , Director of Health, Mr. David Kendell, Public Health Nutrtionists , Ms. Mellonie Furbert and Ms. Cymone Hollis, and Health Promotion Coordinator, Dr. Virloy Lewin.
"We are very excited about this initiative and we encourage everyone to participate by seeking out the $aver the Flavour branded items when they shop," said Jeanne Atherden, the Minister of Health and Seniors.
The focus of the $aver the Flavour initiative is affordable healthy eating. Its goal is to ensure that a person can buy a healthy, balanced diet [a "food basket"] at an affordable price.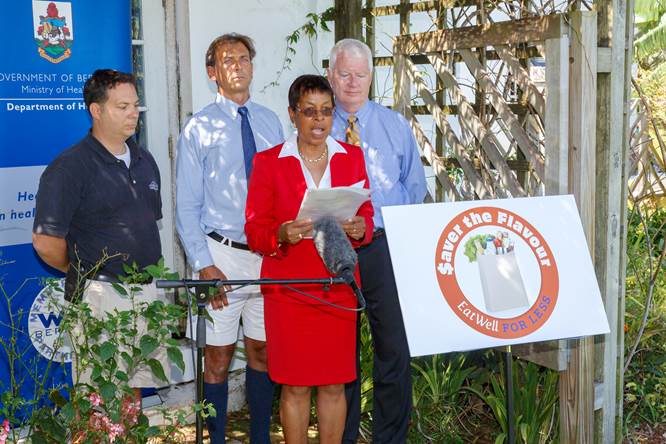 The Department of Statistics and Nutrition Services of the Department of Health compiled a list of items that made up a Healthy Food Basket based on a 2205-calorie daily intake.
After assessing the affordability of a healthy diet it was determined that a healthy food basket can be achieved locally for approximately $60 per adult, per week. By making the healthy food options more visible and accessible in the stores, $aver the Flavour intends to get more nutritious food into people's mouths.
In the most recent survey of Bermuda's health trends, the STEPS to a Well Bermuda Survey, the Ministry was able to identify that less than one in five of Bermuda's population are getting adequate daily fruits and vegetables in their diet. Additionally, the survey indicated that three of every four adults in our population is overweight or obese and 15% have diabetes.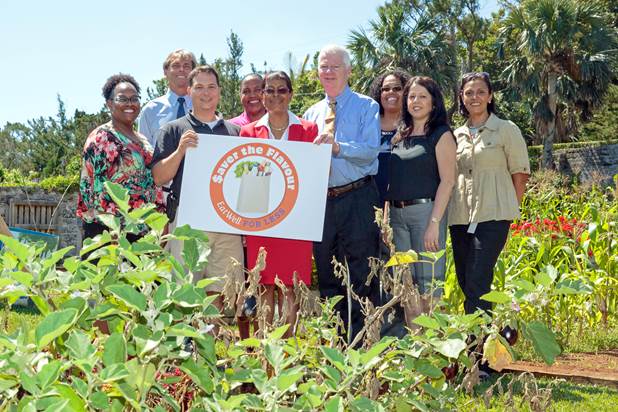 The Ministry of Health and Seniors has implemented a strategy to halt the rise of obesity and diabetes and they have been promoting healthy eating through the dietary guidelines and EatWell Plate, the annual school lunch competition and, now, with this new, innovative partnership with grocery stores and wholesalers.
Virloy Lewin, health promotion coordinator for the Department of Health said, "We are grateful to partner with local grocers and wholesalers who are offering affordable healthy food options, through special pricing, so that eating well can be achieved. This initiative is part of our strategy for a well Bermuda and for achieving healthy people and healthy communities."

Read More About