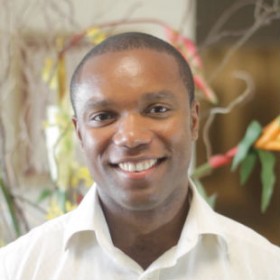 An island initiative is hoping to make its way onto the radar of Virgin's Sir Richard Branson via a VOOM 2016 submission, with Bermudian Ronald Gordon's Thirdeye project aiming to "eventually bring jobs to Bermuda in the tech sector."
The VOOM initiative invites entrepreneurs to "pitch to Richard Branson to win a share of £1 million in prizes. Plus, a whole raft of money-can't-buy opportunities."
The pitch's description says, "Thirdeye is a site/app that lets you find the "light" [compatibility] of the friends you haven't met yet.
"Thirdeye mixes compatibility assessment with location services to connect people for friendships based on unseen qualities as well as appearance. Thirdeye seeks to de-emphasize competition between users so that the focus is on understanding."
"The aim is to help bring us closer together for more meaningful relationships."
Mr. Gordon said, "I have come up with an idea for a social network that I think could eventually bring jobs to Bermuda in the tech sector."
"As a Bermudian acutely aware of the difficulties faced by locals in the job market, I am well positioned to be sensitive to the needs of local workers if given the opportunity to be.
"If the Facebook lets you collect the friends that you already know, then the ThirdEye lets you see the light of the friends that you haven't met yet. The "light" is who that person really is, not necessarily what they look like.
"In my experience, the best relationships I have had with people are based on the light of who that person is. ThirdEye lets you find it more quickly."
When asked what prompted him to enter the competition, Mr. Gordon said, "I started getting really frustrated seeing how difficult it is for people to find and sustain employment in Bermuda. Many people feel as though they aren't getting a fair shake in the corporate environments.
"When you don't have access to the means of production, and you are reliant upon people who may or may not understand you and your capabilities, it can be difficult. I'd like to help by starting my own company. I believe I am well equipped to give people a fair shot at successful employment. I just need to get myself into a position where I can do it."
In order to place higher in the competition, the public must vote for each startup; to learn more and vote for Thirdeye, click here.

Read More About
Category: All, Business, News, technology