[Opinion column written by Nandi Outerbridge]
May is Mental Health Month, surely the best possible time for the House of Assembly to pass an amendment to the Human Rights Act banning discrimination on the grounds of mental disability, as it did last week.
Some of us may find it difficult to understand who might be affected by this piece of legislation. We think of mental illness as an extreme affliction which completely prevents sufferers from taking part in normal life. But mental disability affects many more people than that, and far more subtly, so that you might not notice it.
In the US, one in four people suffers from some form of mental disability, and there is no reason to suppose that Bermuda is much different.
If you work in an office which has 20 people in it, then as many as five of them may be fighting one of the forms of disability. As I said in the House debate, it's almost certain that we all have a loved one, a neighbour or a workmate who is suffering silently every day.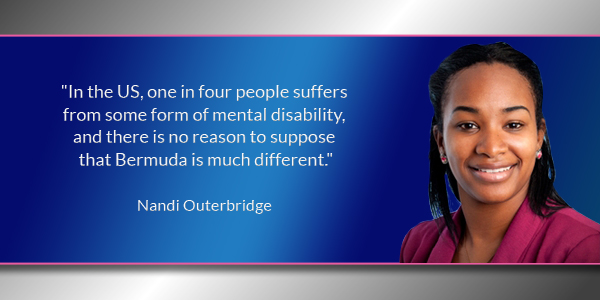 The most common of these disabilities is depression. But there are lots of people also who suffer from anxiety disorders like panic attacks or phobias.
Bipolar disorders cause unusual shifts in mood, energy, activity levels, and interfere with a person's ability to carry out day-to-day tasks. in all, there are more than 200 classified forms of mental illness.
With proper care and treatment many individuals learn to cope or recover from a mental illness or emotional disorder, but it isn't as easy as that.
The difficulty we face is that there is a stigma attached to mental disorder that many people just aren't able to deal with. They won't seek help, because they don't want people knowing that they are sufferers.
They teach themselves ways to lead their lives that avoid situations that might trigger symptomatic behaviour. But those skills have a cost, because one of the most common or these skills is withdrawal from society.
As a result, as the Minister of Social Development and Sport, Sylvan Richards, said when he piloted the bill through the House, "People with mental health problems are amongst the least likely of any group with a long-term health condition or disability to:
Find work
Be in a steady, long-term relationship
Live in decent housing, and
Be socially included in mainstream society."
The Bill adds mental disability as a protected ground of discrimination.
This means that those who have or have had a mental impairment with long-term, adverse effects on that person's ability to carry out normal day-to-day activities, will be afforded protection from discrimination in regards to employment, goods, services, and facilities and accommodation… just as those with physical disabilities have.
As I said in the House of Assembly last week, this bill has been a long time coming. But the public should know that this Government is determined to keep Bermuda up with the rest of the world in the area of protection from discrimination.
I'd like to thank all those in the Social Development and Sport Ministry, as well as their advisors in the Ministry of Health and the Human Rights Commission, especially its former Chair, Michael Hanson, for their help in producing a bill that takes Bermuda one more step along the path of fairness towards all in society. Good job, folks.
- Nandi Outerbridge

20 Most Recent Opinion Columns

Opinion columns reflect the views of the writer, and not those of Bernews Ltd. To submit an Opinion Column/Letter to the Editor, please email info@bernews.com. Bernews welcomes submissions, and while there are no length restrictions, all columns must be signed by the writer's real name.
-

Read More About