[Opinion column written by  Minister Nandi Outerbridge]
Wednesday's Peppercorn Ceremony was a good opportunity to see what makes St. George's special – a community gathering in which the past gives life to the present.
The sun was shining, the music was playing, the Regiment looked great and the Masons paid their due. People enjoyed the show.
There's a good feeling in St. George's these days, with more and more residents anticipating big developments that promise positive impacts on the entire community.
It's going to be a big year. Think about what's happening.
Work on waterfront improvements is nearing completion, setting the stage for the arrival of the first dedicated cruise ship visits in more than a decade. Where once we were told there would be no more calls, Norwegian Cruise Line ships will visit 12 times, with irregular callers adding four more. It's the first year of a five-year agreement with NCL that will return the cruise ship season to St. George's.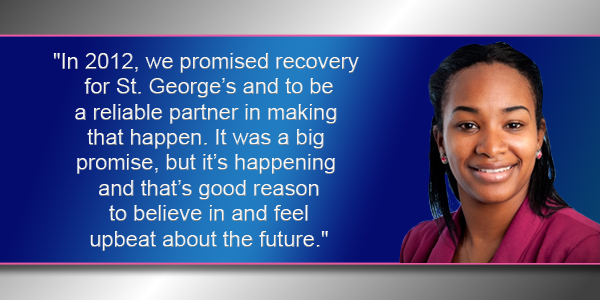 The waterfront is also being upgraded to receive NCL ferries carrying visitors from its ships berthed at Dockyard.
These visits will inject a lot of business into the Old Town, which is going to help shopkeepers, job seekers and the Corporation.
Before the month's out, ground will be broken for the new Airport. This will be a three- to four-year project that will benefit the East End generally and the town in particular, through apartment rentals, shops sales and more jobs.
Soon after that groundbreaking, ground will be broken for a new St. George's hotel, providing a permanent boost to the local economy. Where the previous government could only demolish, we're going to build.
Other things are happening. The plan for a marina just east of Ordnance Island will move a step closer to reality. Legislation to make it happen is set for the next session of Parliament.
St. George's will also have its share of America's Cup activities, with Tall Ships in the harbour at the end of May; not to mention the many America's Cup visitors who will take the opportunity to visit the Old Town.
These happenings — cruise ships, Airport, a new hotel — are game changers, ending years of neglect, drift and decline that took St. George's to a low point.
The turnaround has taken a huge amount of effort by the Government, driven by its determination to make a difference. Some of my colleagues have been stand-outs in this regard – can-do people so different from the naysayers of the past: Kenny Bascome whose spirit is irrepressible, Finance Minister Bob Richards who's been a rock, and Premier Dunkley who's brought a ton of optimism and energy to the task.
The record will show that we pushed through all sorts of disappointments and setbacks to fulfill our promise to end the doldrums and bring new life to the Old Town.
Some of our work has been nuts-and-bolts stuff like providing the Corporation with emergency funding to meet its expenses, or enabling it to collect wharfage fees for civic improvements, or forming a UNESCO fund to strengthen St. George's attraction as a World heritage Site.
There is still much to do and challenges emerge all the time. The guesthouse invasion last week where a group of men robbed contract workers in the dead of night is one of those challenges and it has raised the issue of a St. George's Police station.
A few years back, the Commissioner made a strong case that the Police would provide security for St. George's from its base in Southside. We deferred to their expertise, and I've regarded the issue ever since as a patrol issue, not a building issue. If Police patrols are adequate, then there should not be a problem. But today, a lot of residents say the Police are not patrolling enough.
I've contacted National Security Minister about this with a view to filling whatever gaps need to be filled.
In 2012, we promised recovery for St. George's and to be a reliable partner in making that happen. It was a big promise, but it's happening and that's good reason to believe in and feel upbeat about the future.
- Nandi Outerbridge

20 Most Recent Opinion Columns
-
Read More About