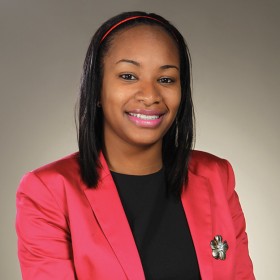 [Opinion column written by OBA MP Nandi Outerbridge]
When we talk about maintaining our national infrastructure, people think of repairing the Gibb's Hill Lighthouse and keeping the buses and the ferries running.
But it's quite a lot more than that.
Our workforce is also part of Bermuda's infrastructure, and we can be proud of the fact that international business is attracted to Bermuda in part because ours is a skilled and intelligent workforce – a robust part of our infrastructure.
Nonetheless, if we have learned one thing during the recession-driven increase in unemployment, it is that we have a lot of work to do in making sure we build into our system the ability to match jobs and skills with people available. Now that we have so many people out of work, we are able to see that we do not always do a good job of synchronizing their needs with the needs of the workplace.
There are jobs out there. There are training and re-training opportunities out there. But despite the fact that we have more unemployed than ever, we have difficulty filling the jobs and the courses we are providing.
Part of the challenge is simply making sure the information is available to those who want jobs, and those who want jobs done. A lot of work has been done in that area. Websites have been created. Department of Labour staff have been re-tasked to offer help to those who need it.
But there is still a big job to be done, and part of it has to do with planning for the future.
When he took over as Minister of Home Affairs, Michael Fahy asked the Chairman of the National Training Board and my fellow MP, Mr. Jeff Sousa, to head up a team charged with creating a National Training Plan, so that Bermuda makes sure it coordinates its needs with the skills it develops in young Bermudians.
The Minister and Mr Sousa presented the first part of that Plan to Bermuda at a press conference last month, and it's quite a document.
You can find the document at the web address at the bottom of this article. If you're the parent of a child intending to one day find a place in Bermuda's workforce, or if you are yourself intending to find a place in the workforce, you should read it.
It's the first part of a two-step process. This document describes the workforce and its needs, now and over the next foreseeable few years. The next part, on which Mr Sousa and his team are now working, will focus on how to marry training and workforce needs, list the resources required to do that and outline the policy changes the Government will have to agree to make the plan work.
This document brings together information which existed in a multiplicity of places before. It confirms many things all of us know and understand, but it also demonstrates some things we only suspected.
For example, Bermudians were once known for having extraordinarily good life skills – honed no doubt when we were a country that depended upon tourism for our livelihood. But those skills have been lost by many young people, and will need to be re-taught. I'm speaking, among other things, of the ability to keep time, to have a good work ethic and to make a good impression on those one comes in contact with.
This is an important document because it provides pathways for people to develop the skills they need for the economy we have – pathways that lead to gainful employment, lifelong careers and personal fulfillment.
All praise to Mr Sousa and his team for producing the National Training Plan.
- Nandi Outerbridge
Read More About