According to the statistics associated with the petition, as of this writing over 200 people who listed their location as Bermuda have signed the petition on the UK Parliament website calling for a second referendum on EU membership.
The petition — which has over 2.6 million signatures overall — says, "We the undersigned call upon HM Government to implement a rule that if the remain or leave vote is less than 60% based a turnout less than 75% there should be another referendum."
The UK referendum turnout was 71.8%, with the referendum seeing 51.9% of voters that turned out backing an exit vote, while 48.1% voted to stay.
Screenshot from the petition website: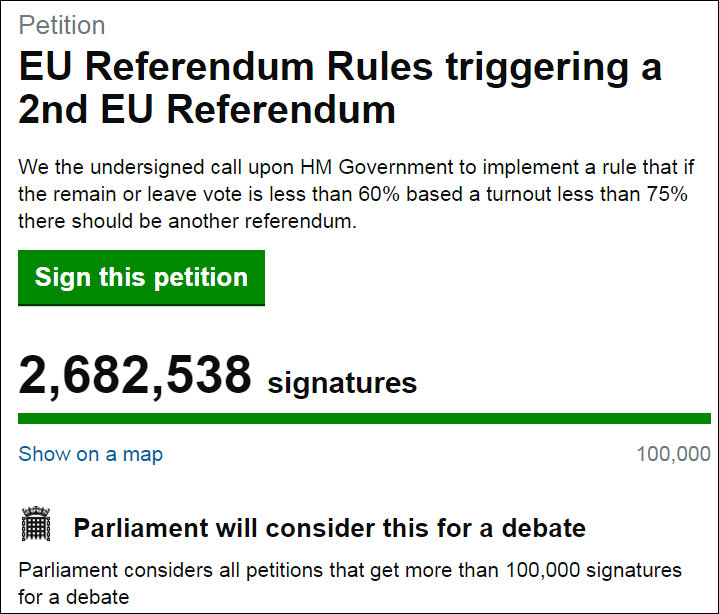 The UK Parliament will consider the matter for a debate, as Parliament considers all petitions that get more than 100,000 signatures for a debate.
However according to an analysis from political correspondent Iain Watson via the BBC, while the petition calling for a second EU referendum has attracted a lot of attention it has "zero chance of being enacted."
"The main reason is that it is asking for retrospective legislation. It suggests another referendum is required because the winning side got less than 60% of the vote, and there was less than a 75% turnout," says Mr Watson.
"You can have thresholds in referendums. The 1979 referendum to set up a Scottish parliament failed because a clause was inserted in to the legislation requiring more than 40% of all eligible voters – not just those taking part – to agree to devolution before it took place.
"But that clause came in advance – everyone was clear about the rules. You can't simply invent new hurdles if you are on the losing side," said Mr Watson.
The BBC also report that "David Cameron has previously said there will be no second referendum," while the Telegraph reports that the demand to sign the petition was so high the website crashed temporarily.
Bermuda's referendum — which was on the same day — was declared to not be answered due to our turnout being 46.89%.
This was stipulated in advance in the Referendum Act 2012 [PDF], which stated that the turnout needed to be at least 50% for the referendum question to be "taken to be answered."
The Act said, "A referendum question shall be taken to be unanswered if less than 50 per cent of the persons who are registered in the parliamentary register, published under section 9(b) for the referendum, vote at the referendum."
Premier Michael Dunkley [link], Shadow Minister of Home Affairs Walter Roban [link] and Bermuda's business community [link] have all commented on the UK voters decision to leave the EU.
Read More About