[Updated] The police are presently searching for a suspect after an incident in Paget this evening [June 8] which saw the police stop a man, who then "suddenly reversed" his car — hitting an officer — and then reversed again at a "high rate of speed" before hitting a car and two walls.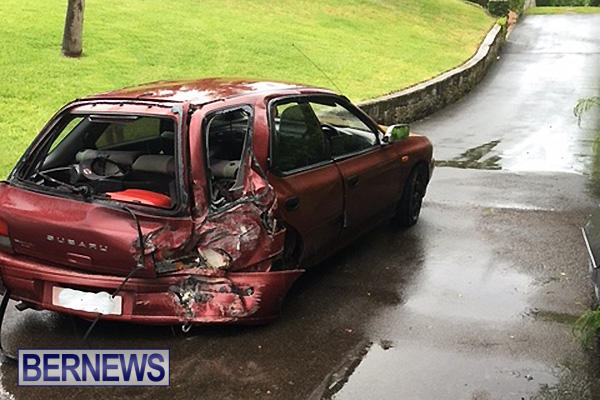 Unofficial reports suggest there was also a female and a child in the car when this occurred.
Police Media Manager Dwayne Caines said, "Police responded to a report of an incident that took place on Lovers Lane in Paget today at around 6:35 today [Wednesday June 8th].
"It appears that a male was driving a car and police had cause to engage their emergency equipment and summon the male to stop at the junction of Highwood Lane and Lover's Lane.
"The suspect then stopped his car and police began to process him. He suddenly reversed his car, hitting an officer that was standing beside his door, causing the officer to fall.
"He then reversed down the one way at a high rate of speed and hit a car that had stopped in the road and then slammed into two neighbors walls.
"The suspect them jumped out of the car making good his escape in the area. A search for suspect is now underway and the scene is being processed by the relevant officers in the BPS.
"The man is described as a brown complexioned male short hair cut, slim build 5'8″ tall wearing a black T-shirt and dark colored pants. Police are appealing for witnesses or anyone with any information to contact police on 295-0011.
"It should be noted the officers injuries were minor in nature," Mr Caines added.
Update June 9, 11.46am: The police said they "wish to locate" 25-year-old Rayshun Edwards of Sandys who is "wanted in connection several offenses committed" after an incident in Paget. Their full statement, and a photo of Mr Edwards, is here.
Read More About
Category: Accidents and fires, All, Crime, News