Aecon Group Inc announced today [June 27] the engagement of Island Automation Limited to perform electrical engineering services and Onsite Engineering to perform mechanical engineering services for the redevelopment of Bermuda's airport.
"The appointments of these Bermudian companies for the first design phase of the project follow a competitive selection process," Aecon said.
"Working closely with Aecon and SCOTT Associates Architects Inc., the lead design project manager specialising in airport planning and architecture, the scope of services for both companies includes assisting with design documentation and drawings, assumptions for local conditions, permitting and approvals process, and value engineering workshops.
"In addition, Island Automation Limited will work with Mulvey & Banani International Inc. of Toronto, the lead engineering firm, to coordinate with local electrical and communications utilities, including new power and communication services for the new terminal.
"Onsite Engineering Services will work closely with lead mechanical engineers H.H. Angus of Toronto, the lead mechanical engineers, to provide input into the mechanical design elements including ground source/aquifer based condenser water heat rejection system, rainwater storage and roof catchment volumes, local equipment suppliers and suggested vendors and material selection for the new terminal.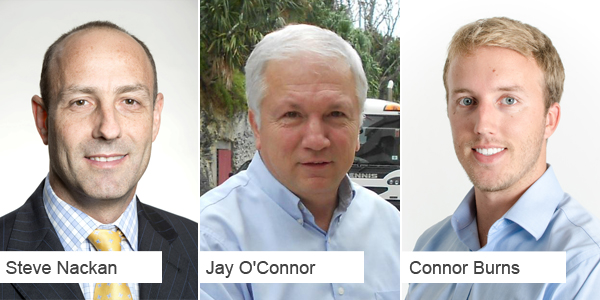 Steve Nackan, President, Aecon Concessions, and the airport project's development lead, said: "We're looking forward to working with these companies because their local expertise is invaluable. We trust their talent will help to build Bermuda's first purpose-built airport, which everyone can be proud of for generations to come.
"Aecon has significant experience constructing award-winning, world-class airports — from concept to creation — and our goal is to do the same here. We're assembling an incredible team that we're excited to put to work."
Jay O'Connor, President of Island Automation Limited, says: "Since 2004, we've provided professional engineering services to a number of local architects and engineering firms. Our team also has successfully contributed to some of Bermuda's most recent, large developments which places us well for the engineering required for the Airport Redevelopment Project."
Connor Burns, Director of Onsite Engineering, says: "Our collaborative team philosophy and detailed knowledge of local codes and practices can streamline design and development cycles.
"We have a lot of diverse experience working on Bermuda's largest overseas-led projects, and understand the core strengths of the Island's major contractors – all of which we will bring to the table to support and assure this project's success."
"The announcement of these companies marks another important stage of local partner selection as the airport project enters the next stage of development with design plans scheduled to be unveiled soon," Aecon said.
"The redevelopment of L.F. Wade International Airport is being advanced under a development agreement between the Governments of Canada and Bermuda. The Canadian Commercial Corporation [CCC] is a Crown Corporation for the Government of Canada and brings expertise in international contracting for complex purchases and the experience to select highly capable suppliers, such as Aecon."

Read More About