Aecon Group Inc. today announced the "engagement of four Bermudian firms, following an RFP and selection process for the construction phase of the Airport Redevelopment Project."
The six contracts awarded are:
Architecture – OBMI
Landscape Architecture – OBMI
Structural Engineering – Brunel
Civil Engineering – Brunel
Mechanical Engineering – Onsite Engineering
Electrical Engineering – IAL
Aecon said the firms will be working with Aecon and its consultants to:
Review and provide input into the design development of the new passenger terminal
Advise and lead on Bermudian conditions, practices, codes and permitting
Review various inspections and testing activities during construction
Review and prepare reports on conformity of site installations to design
Work underway at the airport earlier this month: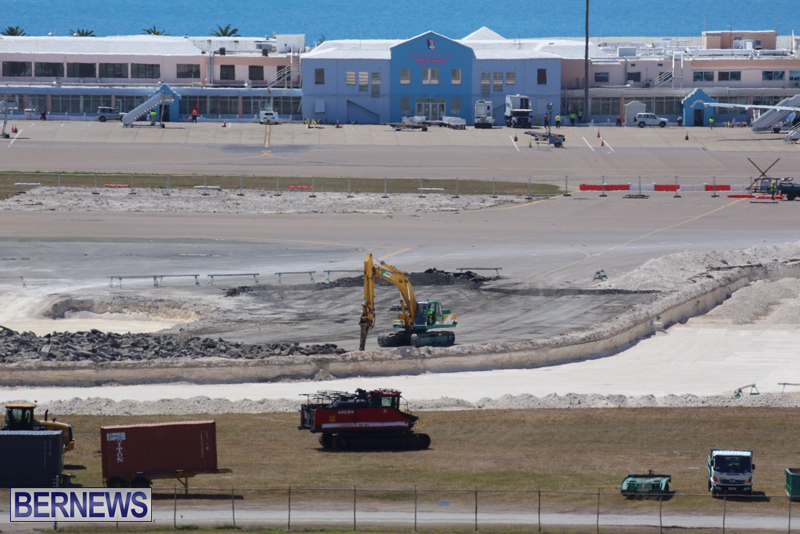 "Brunel is a consulting engineering firm which specialises in providing professional engineering services on civil and structural engineering projects in Bermuda," Aecon said.
"They will work closely with Aecon; WSP, Canada's leading engineering consultants; and Quinn Dressel, to provide all of the above services. In particular, they will provide input into all aspects of the design with respect to wind loading and other environmental impacts. Brunel will prepare inspection reports and manage photographic records of inspections. They will also be carrying out civil and structural site inspections.
"IAL, a leading electrical engineering consultancy, will be working closely with Mulvey & Banani International Inc. Specifically, they will be coordinating and reviewing with the Bermuda Fire & Rescue Service the design of the fire alarm system for the new airport terminal, and in addition they will be responsible for finalizing the design of grounding and lighting systems, as well as coordinating with local electrical contractors.
"Architectural and landscape design firm OBMI will provide leadership to the Bermuda consulting team and will be the principal liaison in Bermuda between the design and construction teams.
"Working with Scott Associate Architects Inc., the lead design project manager and architectural consultant who specialise in aviation design, OBMI will ensure all conditions of the planning permissions are adhered to. Additionally, they will provide input into the architectural and landscape design for the new airport terminal, ensuring that there is a "sense of place" and a strong Bermudian theme both inside and outside the terminal.
"Onsite Engineering, a specialist in mechanical engineering will be working with consulting engineers, HH Angus. They will be responsible for providing the design of the ground water heat rejection system, including but not limited to, boreholes, piping, pump selection, and filtration. The work also includes design parameters and design concepts for the project and advise on local equipment manufacturers, suppliers and service contractors."
Frank Ross, Aecon's Executive Director, Infrastructure, said: "Local expertise is invaluable in every project and we're delighted to be working with these Bermudian firms. Having worked with them during the design phase, we know the local talent that they can bring to the table. We're happy to have them as partners as we begin the construction phase of the project."
Aecon said the construction phase of the Airport Redevelopment Project is expected to last until approximately Q1 2020.

Read More About