The Centre on Philanthropy hosted their 9th Annual Member Appreciation Reception on June 30th, with non-profits, corporate, individual members and supporters invited to recognise their many valuable contributions and support.
The event which was generously hosted by XL Catlin was attended by Deputy Governor Ginny Ferson, Premier Michael Dunkley and Minister of Social Development and Sports Sylvan Richards.
The evening saw recognition and certificates presented to The Foundation Circle Awardees recognising the most significant donors that supported The Centre on Philanthropy through grants, sponsorships, membership fees and in-kind gifts over the last fiscal year. This year's recipients are The Bank of Bermuda Foundation, KPMG, Renaissance Re and XL Catlin.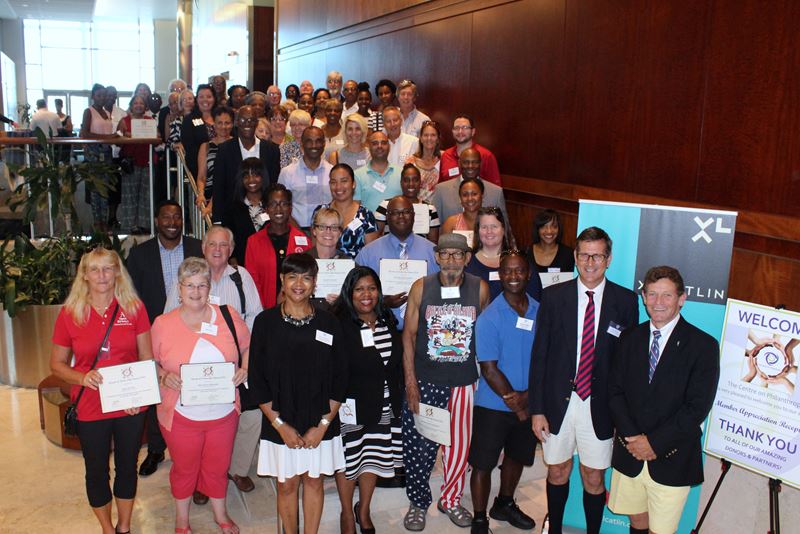 Certificates were presented by The Chairman of the Board, of The Centre on Philanthropy, Mr. Brian Madeiros.
The Decade of Partnership Award was presented to the non-profits that have been consistent members with The Centre on Philanthropy for the past ten years. This year there were 82 recipients.
Elaine Butterfield, Executive Director said, "Our non-profit partners are the warriors in the community, providing critical programmes and services. This event is to recognize them, their partnership and vital contribution that they make to our community".
Mr. Mark Berry of XL Catlin shared how important it is for the third sector to work together to meet the needs of the community through teamwork and collaboration. He congratulated the recipients on their achievements.
Read More About
Category: All