HITCH — a taxi booking app that puts passengers in direct contact with taxi operators — has released an upgraded version of the app, with new features now available for both the Apple and Android version.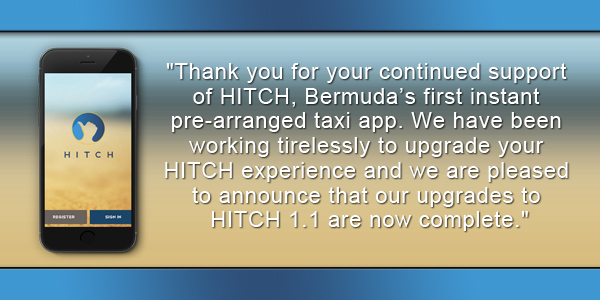 "Thank you for your continued support of Hitch, Bermuda's first instant pre-arranged taxi app. We have been working tirelessly to upgrade your Hitch experience and we are pleased to announce that our upgrades to Hitch 1.1 are now complete," the company said.
"All of these upgrades have come from the feedback that you, our loyal Hitch customers, have given to us. Please read below to learn more about the new features available when you upgrade your Hitch Application.
"The updated Hitch applications which include all of these features can be downloaded from your app store. If you have auto updates enabled Hitch will update automatically.
"If you have any feedback or additional suggestions for future improvements please let us know. Thank you for your continued support & have a great Cup Match Holiday."
The new features, as stated by Hitch, are below:
1. Leave a Tip for Your Hitch Operator: You are now able to add an additional tip to your fare. Many of our corporate customers have indicated they want to be able to leave an extra thank you for our Hitch operators. You are now able to add a tip up to 100% for your Hitch rides.

2. Enter your Destination: You will now be prompted to enter your destination into Hitch when requesting a ride. You will be more likely to get a Hitch ride if you enter your destination and we strongly recommend that you do so. You can search by street or point of interest (airport, hotel, restaurant).

3. Address Issues Corrected: On occasion, there are some addresses which do not display correctly in Hitch, especially in the City of Hamilton. This upgrade fixes this issue so that all addresses will show correctly.

4. Request Pickup at Point of Interest: You will now be able to request a pickup at a point of interest (company, hotel, restaurant, attraction). Additionally, we have expanded the amount of characters that can be entered for additional information about your pickup location.

5. Improved Pickup Location Prompts: Many times Hitch customers unintentionally request pickups at a different location from where they are actually located. Our upgraded app will warn you if you are requesting a ride at a different location, and will show your full pickup address before you request a ride.

6. Auto Re-request of Cancelled Ride: On occasion your Hitch Operator may cancel your ride request. This Hitch update will let you re-request your ride without having to re-enter your information.

7. Labeling of Credit Cards: When you enter multiple credit cards into Hitch you can indicate whether the credit card is a "company" card or a "personal" card. To add additional cards to Hitch, click "Payment Info" in your Hitch menu. Hitch does not store your credit card information on our servers so your data is always secure.

8. Warning for Increased Rates: In alignment with local taxi standards, Hitch rides started on Sunday, Public Holidays, and late nights incur a 25% surcharge. Our upgraded app will ensure you are aware that you are being charged an increased rate before you request your Hitch ride. Additionally Hitch may increase fares during certain peak times to attract more Hitch operators to ensure you get where you need to go.

Read More About
Category: All, Business, News, technology