Hitch – Bermuda's taxi booking mobile app — has completed its 30,000th ride, and has paid out over $600,000 to its 230 taxi drivers since its inception.
"Hitch was launched on December 14th, 2015 and in less than 18 months has become a trusted method of booking for both taxi operators and passengers. With over 6,500 customers, Hitch has paid out over $600,000 to its 230 taxi drivers since its inception," the company said.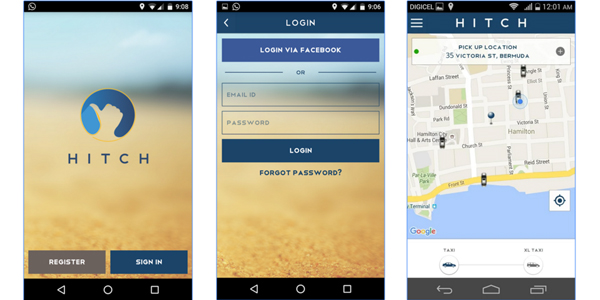 "Awarded 'Most Innovative Mobile Application' in the 2015 TechAwards, Hitch's ease of use and multiple features has made it popular with residents and visitors alike.
"Customers can obtain a fare estimate, receive an instant confirmation, and track their taxi's progress in real time. Fares can also be split between account holders, and with all billing completed electronically, Hitch eliminates the need to carry cash when taking a taxi."
Eduardo Magaña, visiting from Mexico City, said, "This is my first trip to the island. As a business visitor, renting a moped to travel to meetings just isn't practical. I was taking taxis multiple times a day, but using cash was frustrating because of constant visits to the ATM and the expensing difficulties. Then a local told me about Hitch. I signed up on the spot and it has made my trip so much easier. I can use my overseas credit card and phone number and the service is so efficient."
Taxi operator Steven Douglas said, "I love Hitch. It's modernised the entire booking process and allows me to handle my finances better with the automatic electronic payments. It's convenient for both myself and my passengers and I don't have to worry about carrying a lot of cash around at once and making constant bank deposits."
Owen Darrell, chairman of Hitch Limited, is encouraged by the progress: "The growth of HITCH in such a short amount of time has been extremely encouraging. We really feel supported by the community and new drivers are regularly getting onto the platform.
"We encourage any driver looking to access more passengers to download the app to increase their earnings. Additionally, to mark this milestone and in appreciation of our users, we'll be randomly selecting from our database one passenger and one driver to each win a prize of $50."
Local resident David Spear also shared his experiences saying, "When my bike broke down a few months ago, I began to call for taxis frequently. But once I started using Hitch, life became way easier and I find that rides are more readily available. It's so easy that I haven't even bothered buying a new vehicle."
Any drivers interested in joining Hitch can call 23-Hitch or email support@hitch.bm. Riders can download Hitch by visiting the Apple App Store for iPhone, or the Google Play store for Android mobile devices. There is no cost to download the mobile app and it can be used immediately after registering.
For more information about HITCH including fares, privacy policy, and FAQs visit the website, www.hitch.bm.

Read More About
Category: All, technology