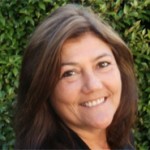 Hosted by the United States Consul General, in conjunction with the Bermuda Chamber of Commerce, women in business are being invited to a free networking session at the U.S. Consul General Mary Ellen Koenig's official residence, Cedarhurst.
A spokesperson said, "This session will feature a live talk by Monica Dodi [pictured], the co-founder of MTV Europe and The Women's Venture Capital Fund. Mrs. Dodi is a well sought-after advisor and angel investor in new ventures spanning virtual worlds, mobile applications, and social media."
Chamber Executive Director Kendaree Burgess said, "The Chamber is pleased to partner with the U.S. Consulate to present the first in a series of sessions catered to a local audience.
"This session, with a presentation by Mrs. Dodi, is specifically focused on female entrepreneurs and professionals. Attendees will be able to ask questions and share opinions on life as a professional woman and/or entrepreneur."
"The Chamber invites women to join this opportunity to network and mingle with other professional women, and hear from a driving force in the world of entertainment. The event will be held on Tuesday, July 19, from 5:30 pm till 7:30pm at the official residence of the U.S. Consul General, Cedarhurst.
"Reservations are required and available online at bermudachamber.bm. For more information, contact the Bermuda Chamber of Commerce at 295-4201 or email consultant@bcc.bm."
Read More About