Mariangela Bucci is the 2016 recipient of the Conyers Dill & Pearman legal scholarship award, with the award presented to Ms. Bucci at Conyers' annual student open house.
The scholarship award, presented annually to a Bermudian enrolled in a law degree programme, is valued at $30,000 per year for a maximum of three years.
Ms. Bucci will be attending The Dickson Poon School of Law at King's College, University of London in England.
Ms. Bucci said, "I would like to thank Conyers Dill and Pearman for awarding me this scholarship. Without the assistance of this scholarship I would have had to work part time and obtain a student loan in order to fund my studies.
"In relieving the financial burden of attending law school, this scholarship means not only will I be able to commit myself more fully to my studies but also, that I will be able to graduate debt free.
"Law is the only field that combines my passion for moral progress with my intellectual curiosity. I understand the law as a purposefully open-ended framework that functions as the political institution's internal mechanism for change."
Director and chairman of Conyers' Scholarship Committee David Astwood, Mariangela Bucci, and Director Sophia Greaves: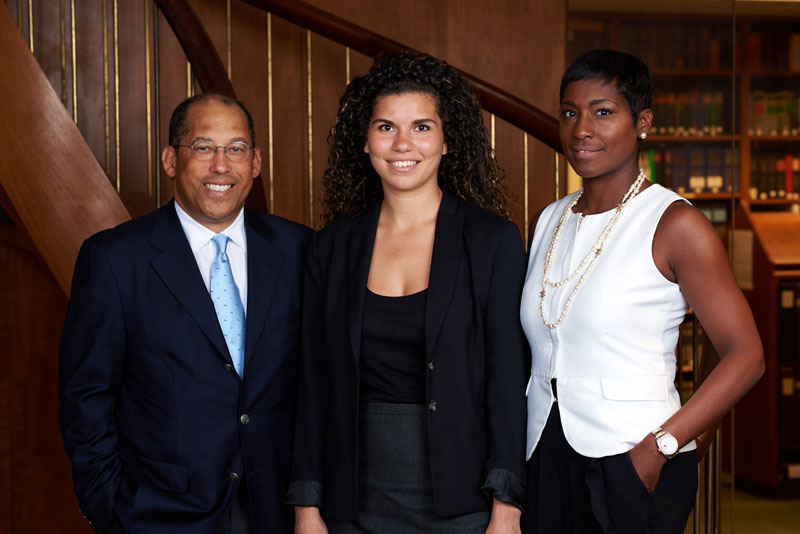 In recent years, Ms. Bucci has had the opportunity to apply her education in various internships, gaining valuable experience at law firms in Bermuda and the US.
Beyond this, she has also obtained international experience through her internship at AmTrust Financial Services, where she worked as a risk analyst and translator to the Vice President.
She was invited back to intern with the company this summer at their headquarters in Milan, where she manages the settlement of commissions and payments for over 300 broker accounts."
David Astwood, Director and chairman of Conyers' Scholarship Committee, said, "Mariangela is an exceptional talent. She is driven and focused on making an impact whether in school, at work or in the community. We are delighted to name her this year's scholarship recipient."
In addition to the scholarship, Conyers awarded bursaries to six Bermudian law students, including $20,000 to Aleisha Hollis [University of Essex], $10,000 to Elizabeth Blankendal [University of Bristol], $10,000 to Marcus H. Bean [University of Kent], $10,000 to Catherine Campbell [The City Law School – City University London], $5,000 to Lauren Allen [Exeter University], and $5,000 to Matthew D. B. Hogan [London School of Economics and Political Science].
Mr. Astwood said, "We congratulate the bursary winners on their achievement and wish them continued success in the future."
"Conyers is committed to corporate social responsibility, especially in support of future generations as they embark on building a successful career in law. The Firm has offered over $2.5 million in scholarships and bursaries over the past 30 years, giving more than $100,000.00 annually.
"The aim of these awards is to open doors to the legal profession for young Bermudians, enriching the legal community and talent pool of candidates in the long term."
Read More About