[Updating] Flora Duffy competed in the Olympic women's triathlon today, where the Bermudian athlete — who has a string of international wins — placed 8th, Bermuda's highest finish of the 2016 Olympic Games.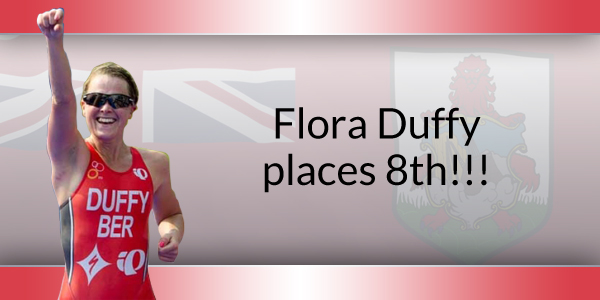 Original story: Local residents will likely be able to catch some of the race live on TV, and you can also download the Bermuda Broadcasting Rio 2016 app, which has 13 channels.
We will also provide updates as able in the live blog below, and via our dedicated sports Twitter feed @BernewsSports where journalist Don Burgess will be live tweeting the race.
Duffy — who is making her third Olympic appearance for Bermuda — comes in as the #1 ranked female triathlete in the ITU World Triathlon Series.
Duffy is the final Bermuda athlete to compete in this year's Olympics, with Bermuda having fielded an 8-strong team of elite athletes, who all represented us well on the world stage.
Long jumper Tyrone Smith marked his third Olympic appearance with a 16 place finish, while swimmers Julian Fletcher and Rebecca Heyliger made their Olympic debuts.
Sailor Cameron Pimentel tested himself against the best in the world, joined by fellow sailor Ceci Wollmann, who was the youngest member of our team at only 18 years old.
Rower Shelley Pearson placed 16th overall and also first female to represent Bermuda at rowing in Olympics, while sprinter Tre Houston showed his speed on the track, delivering the first Olympic appearance by Bermuda in the 200m in 20 years.
Your screen will automatically refresh with the latest updates:
Read More About