Some recognizable names in sports are heading to Bermuda next month to compete in the Pro Sports World Championship of Golf and the public is invited to play alongside the pros.
The event, September 8th to 10th at Port Royal Golf Course, will bring together big name athletes from the NBA, NHL, NFL and MLB.
NHL Hall of Famer Grant Fuhr, baseball great Josh Beckett and NFL quarterback Billy Joe Tolliver are among the stars who will lead teams of golfers through a fierce competition that pits hockey, football, basketball and baseball players against one another.
Spectators can also expect to see other big names such as Mark Mulder [MLB], James Wisniewski [NHL], Donny Marshall [NBA] and Mark Rypien [NFL].
"In addition to the battle between pros, this is a rare opportunity for local golfers to play in the same foursome as a sports legend," said Brady Whittingham, the event's director.
"Super Bowl, World Series and Stanley Cup Champions, as well as Hall of Fame inductees, will be playing at Port Royal.
"Even if you don't enter the Pro Am, it's definitely going to be something special for spectators because these players are exceptional golfers and still extremely competitive no matter what sport they're playing."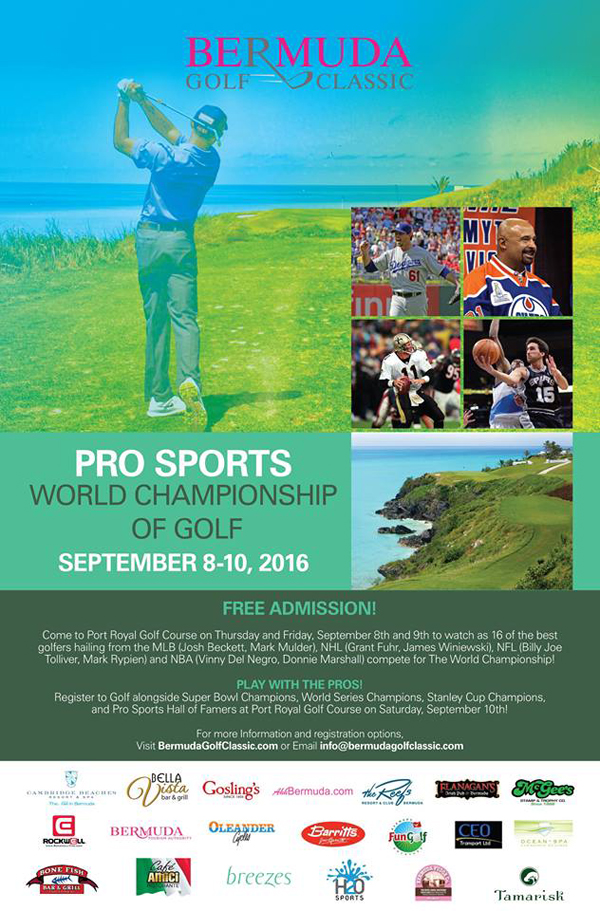 The Pro Sports World Championship of Golf is a sister event to the NFL Players Invitational that attracted a number of NFL greats to the island earlier this year, including Jerry Rice. Both events are partially funded by the Bermuda Tourism Authority's [BTA] tourism experiences grant process.
"Event organisers have a clear ability to attract high caliber golfers from the world of professional sports," said Pat Phillip-Fairn, chief product and experiences development officer at the [BTA].
"Our job now is to provide them with a quality experience so that they become advocates for Bermuda's golf tourism product as they travel around the world and engage with sports fans."
The Pro Sports World Championship of Golf is also sponsored by Cambridge Beaches, Bella Vista, Port Royal, Butterfield and Vallis, iHope Global, Barritt's and Gosling's – among others.
The event will kick off on Wednesday, September 8th with a series of practice rounds followed by a welcome reception. The first and second rounds of the Pro Sports World Championship will take place on Thursday and Friday followed by the Gala Friday evening and the Pro Am on Saturday.
More information about how to register to play or attend events is available online.
Proceeds from the 2016 Pro Sports World Championship of Golf will benefit The Family Centre.

Read More About