[Written by Don Burgess]
Shelley Pearson is "calm and confident" ahead of Tuesday's women's single sculls quarterfinals at the Olympic Games.
She will be competing in the third quarterfinal heat in lane 6 and will be up against three Africans: Algeria's Amina Rouba, Nigerian Chierika Ukogu, Zimbabwe's Micheen Thornycroft as well as Canada's Carling Zeeman and Dane Fie Udby Erichsen, who won silver at the London Olympics.
Saturday's conditions were as about as bad as it could get for the rowers as winds not only flipped oars but also saw the Serbian boat get swamped by waves and overturn in the ferocious swells.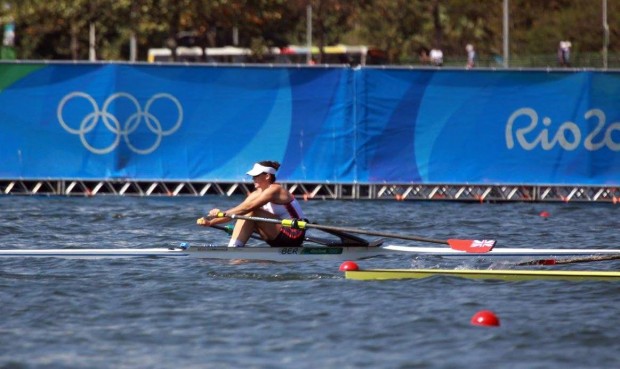 "No rower looks forward to racing in these kind of conditions, but it's something many of us have faced at one point or another," said the Bermudian Olympian.
She added there isn't any way to handicap Tuesday's races based on the qualifying marks.
Pearson told Bernews: "The times honestly literally mean nothing in conditions like that. It's going to take a really good race [by me]. I am going to stay calm and confident and see what I can do.
"I just want to have the best race that I can, I haven't had that many races in the single so each race is exciting for me to learn something new. At this point I don't have anything to lose, I have everything to gain."

Read More About