News that Flora Duffy came first in the Montreal International Triathlon Union World Cup, the Bermuda U15 girls football team defeated both the Cayman and Bahamas, Demi Wright was awarded the EY Bermuda Scholarship, and Butterfield awarded scholarships to Maha Clarke and Kai O'Doherty were all some of the positive news stories from the past week.
In other good news both Nahki Wells and Reggie Lambe scored for their professional teams, the Bermuda Women's Volleyball Team won a gold medal and advanced to the second round of the World Cup Qualifiers, Kevin Simmons won the IBA Architectural Award, the BikeSpaBda Automated Bike Wash opened for business, and Bermuda's Olympic athletes continued competing in Rio.
Additional good news stories included Janeiro Tucker and Isaiah Greaves winning cricket Players of the Week, the Bermuda Development cricket team defeated the Central Essex District team in the United Kingdom, Saltus students scored well above the global average in their summer Advanced Placement exams, and Appleby received an award for Offshore Law Firm.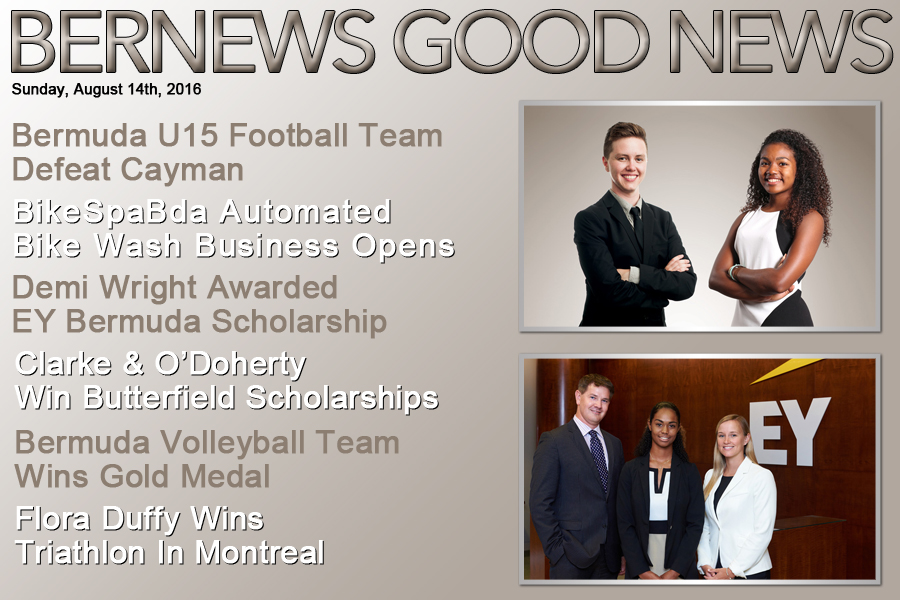 We also posted various community photo galleries, including the Bermuda Police Service's Passing Out Parade, electric vehicle training for the island's first responders, rower Shelley Pearson finishing third in her heat at the Olympics, and Flora Duffy winning the Montreal International Triathlon Union World Cup.
In an effort to highlight some of positive news happening in our community, we supplement our standard morning and evening email newsletters with a special Sunday "Good News" email newsletter edition, which strictly focuses on the positive news from the past week.
You can sign up to have the free newsletter delivered via email here, and/or access the links below. In addition, for those who like positive news, please feel free to visit our sister site ForeverBermuda.com, which seeks to showcase the best of Bermuda as well as provide information and listings for visitor related services.
Links to some of the 'good news' from the past week are below:
Read More About