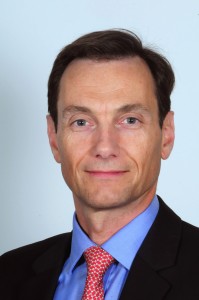 Bermuda Commercial Bank Limited [BCB], a Bermuda financial services company, has announced the appointment of Hubert Esperon [pictured] as the new Chief Executive Officer [CEO], effective September 6, 2016.
"Hubert Esperon is a veteran executive with diverse international business experience. His 24 years in financial services have included 12 years at the level of Managing Director and CEO," the company said.
"After joining GE Capital in 1998, he held positions with GE Capital Structured Finance, GE Capital Leverage Finance and GE Equity. By 2013, Mr. Esperon had cultivated excellent strategic and leadership skills and earned a proven track record for closing large-scale transactions.
"Notable successes included launching and developing the leveraged finance platform for GE Capital in France, securing the bank licence required to allow pan-European expansion and re-launching the GE private equity arm in Europe.
"For the past two and a half years, Mr. Esperon has held the position of CEO at GE Artesia Bank in the Netherlands, while also serving as the Chairman of Aegean Baltic Bank.
"Both banks are of similar scale to BCB.
"Prior to GE, Mr. Esperon spent five years with PricewaterhouseCoopers in Paris and London, where his corporate finance responsibilities included raising debt and capital, and undertaking feasibility studies for large-scale infrastructure projects.
"Mr. Esperon, who is French, holds a Master of Applied Mathematics [passed with honours] and an MBA majoring in Finance."
Alan Gilbertson, BCB Board Chairman, said, "I am delighted to welcome Mr. Esperon as the new CEO of Bermuda Commercial Bank Limited. After an extensive review of candidates, the Board concluded that Mr. Esperon is the ideal individual to lead the Bank.
"His understanding of banking, combined with his intellect, leadership and experience, will help him to implement our strategy. We are confident and excited about the future of Bermuda Commercial Bank under the skilled direction of Hubert Esperon."
"The CEO search process was led by a Board committee consisting of Alan Gilbertson, David J. Morgan and Alasdair Younie, with the assistance a leading global executive search firm."

Read More About