Reconstruction surgeons Dr. Simon Talbot and Dr. Matthew Carty of Brigham and Women's Hospital will be on the island tomorrow [Oct 19] speaking at Bermuda Cancer and Health Centre's 'Breast Cancer Talks: Reconstruction' event at Bermuda Society of the Arts at 6,00pm.
A spokesperson said, "Many can imagine the terror that must be felt after an initial breast cancer diagnosis, but what about the body concerns one deals with following that, while on the long, hard road to recovery?
"According to reconstruction surgeons Dr. Simon Talbot and Dr. Matthew Carty, of Brigham and Women's Hospital, female patients often go through a myriad of different challenges and emotions. The good news is now more than ever they have treatment and reconstruction options to help them regain confidence and gradually put cancer behind them."
"The feeling most women experience after a breast cancer diagnosis first and foremost is terror and the feeling of 'am I going to survive this," Dr. Carty explained.
"Once they move beyond that sentiment they experience a very complex set of emotions when it comes to how they think about their bodies and what being whole means. In societies like the US, and similarly in Bermuda, the breasts are a very essential part of female identity so often times it's a very big deal for a woman to lose one or both of her breasts.
"For some women it bothers them more than others, but I think there is a universal sense of loss and mourning that women go through and our job as reconstructive surgeons is to help alleviate that anxiety. In that respect I think we have one of the best jobs in the world."
"Both physicians will be on island tomorrow [Wednesday, October 19] speaking at Bermuda Cancer and Health Centre's 'Breast Cancer Talks: Reconstruction' event at Bermuda Society of the Arts at 6pm.
"Partners HealthCare-International is a proud supporter of the event and has been instrumental in bringing clinical experts to the island, not only during Breast Cancer Awareness Month, but throughout the year as well.
"Dr. Talbot, an assistant professor of surgery at Harvard Medical School, will be updating attendees on different types of reconstruction options available, especially as it relates to breast cancer patients."
"My plan is to give a broad overview of the different types of high level, complex reconstruction that plastic surgery can now offer," Dr. Talbot said.
Dr. Simon Talbot and Dr. Matthew Carty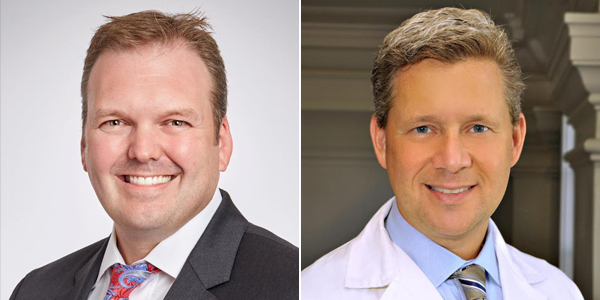 "Most people when they think about plastic surgery they think about cosmetic procedures like tummy tucks, breast augmentation or nose jobs, but plastic surgery also offers options for people who've been through a devastating diagnosis or devastating injury.
"Some types of surgery use various types of local tissue to reconstruct an area be it a nose, ear or an eyelid, others involve bringing tissue from elsewhere in the body to reconstruct a large defect that might have occurred."
"Dr. Carty, on the other hand, will be focusing on the role of plastic surgeons in breast reconstruction and the impact such procedures can have in the lives of patients. For women who undergo a mastectomy and lumpectomy, he's found that reconstruction can help to restore them to a relative sense of normalcy."
"But even after surgery it's never like the disease has never happened," Dr. Carty continued.
"In addition to the surgical process we undergo with people, we also help them through the process of acceptance and coming to terms that their body may be different, but it is something where we want them to be comfortable in their own skin."
"One of their main reasons for coming to Bermuda is to meet local physicians and surgeons and find more effective ways of collaborating."
"Having a strong collaborative relationship with the doctors in Bermuda is a huge goal of ours," Dr. Talbot said. "We believe that good medicine is all about good communication and collaboration for all the people involved in that person's care – the primary care physician and surgeon. We look forward to the opportunity to work with the other people seeing patients rather than being seen as a separate entity altogether."
"Both doctors, who happen to be in their early to mid-40s, personally know of people affected by cancer."
"There's a resonance of sympathy that comes from knowing people who have been ill due to this disease," Dr. Carty said. "But I think we are actually privileged as doctors we can do something about it whereas most times people are forced to have a passive role in it – for me that's the inspiration and it's incredibly fulfilling to be able to help people when they are going through a really profound experience."
"Tickets for the talk are $5. Proceeds raised from this and many other Breast Cancer Awareness Month activities will be going to Bermuda Cancer and Health Centre's Radiation Therapy Treatment Facility, a state of the art facility overseen by the team at Dana Farber/ Brigham and Women's Cancer Centre.
"Dr. Talbot believes it's a worthwhile investment."
"For all of the patients going through treatment requiring radiation, it's a really tough experience for them. Radiation by nature is a longitudinal treatment that takes time, so giving them an opportunity to have radiation close to home and in a local setting I think is hugely advantageous."
"The equipment is said to be able to treat over 90% of cancers that require radiation. It will be especially helpful to patients who have no insurance and are unable to afford to fly overseas. For more information, visit www.chc.bm."

Read More About
Category: All