The Bermuda round of the 2016 Caribbean Equestrian Association's Regional Jumping Challenge [CEA RJC] was held yesterday [Oct 16] at the National Equestrian Centre, with the event judged by Judy Hagen of Bermuda.
Currently in its second year, the CEA RJC provides competitors of all ages an opportunity to measure their skills against riders within the Caribbean region. Riders compete in their own countries, over two rounds of a predetermined jumping course at heights of .70m, .85m or 1.00m.
The top two scores from each division form the country's team.
Despite the challenges and disruption of having recently endured the wrath of Hurricane Nicole, Bermuda's competitors rose to the occasion and secured very strong scores in all three-height divisions. The final country results and placing will be confirmed once Jamaica has completed its round of the competition.
Eleanor Cox on Face Off, Elizabeth Madeiros on Mr. Bentley, and Camryn Lines Riding Spot the Dot [photos by Andy Gibbs]: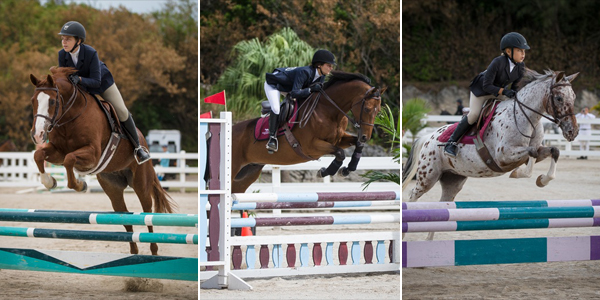 Securing the six team spots for Bermuda were:
Mr. Bentley ridden by Elizabeth Madeiros [1.00m]
De la Vega ridden by Casey Truran [1.00m]
Wiratoro ridden by Kelsey Amos [.85m]
Helsinki ridden by Bevis Tetlow [.85m]
Batteries Not Included ridden by Tyler Lopes [.70m]
Jack Frost ridden by Ariane Willmott [.70m]
Full results of the Bermuda Round of the CEA Regional Jumping Competition follow below [PDF here]:

Read More About