The Digicel NBA Jumpstart Elite clinic concluded in the British Virgin Islands today with four Bermudian players being selected by the NBA coaches for the Digicel Jumpstart Experience in the U.S. later this year.
The four players were selected from 57 young players from eight Caribbean countries who competed at the three-day camp, and make up half of the total number who will travel to the States.
The NBA coaches selected the players based on the skills and attitude they displayed over the three days. The players are: Caelin Peters [14], Jorel Smith [15], Kobie Reid [15] and Ishan- Nae Smith [16].
Ishan- Nae Smith, Kobie Reid, Jorel Smith and Caelin Peters.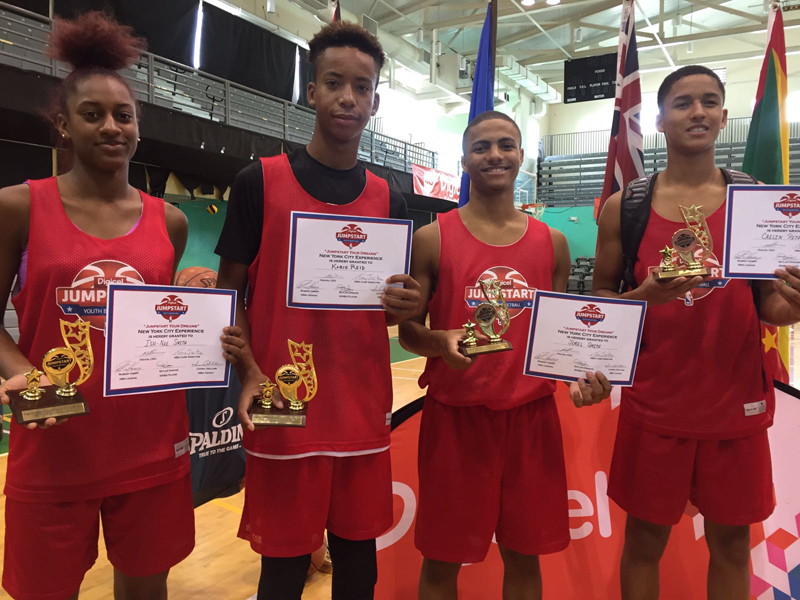 "This is a huge opportunity and chance to get more exposure and to strengthen my skills as a player. I am looking forward to the experience and the atmosphere, meeting new people and working with the NBA coaches. At the camp I enjoyed meeting people from different cultures and playing against those different cultural styles and adjusting so it fitted into my game," Kobie Reid said.
Ishan- Nae Smith added, "This means a lot because not very many girls in Bermudian get to experience what I did and I am looking forward to seeing a NBA game for the first time."
"As I was at the Elite camp last year in Trinidad it means a lot to be selected this year. I felt I was really close then and I have worked hard since. I liked how everyone was working hard and we all had intense schemes. Everyone was very passionate about the camp and I went out to do my best. I love playing basketball, so it was fun!," said Caelin Peters.
"I can't wait to see the talent in New York, in those high school teams we will play as well at going to see the Knicks and the Nets."
Additionally, Siyaunne Hall [16] won the female Free Throw award.

Read More About