After a successful Xtreme Sports Games event, entertainment business Xtreme Sports is set to host their own family fun day. Turning their focus from corporate companies to families, the Xtreme Sports Family Fun Day is scheduled for October 8, to be held at the Somersfield Academy field from 3:00pm to 9:00pm.
According to the company, "The Xtreme Sports Family Fun Day is a fun-filled day with Xtreme Sports, music, food, drinks, fun castles, entertainment & more! We'll also be launching our brand new glow in the dark products!"
"The idea behind the event is to show the community the products and services Xtreme Sports has to offer. But more importantly, providing a day that the whole family can enjoy through fun and exercise."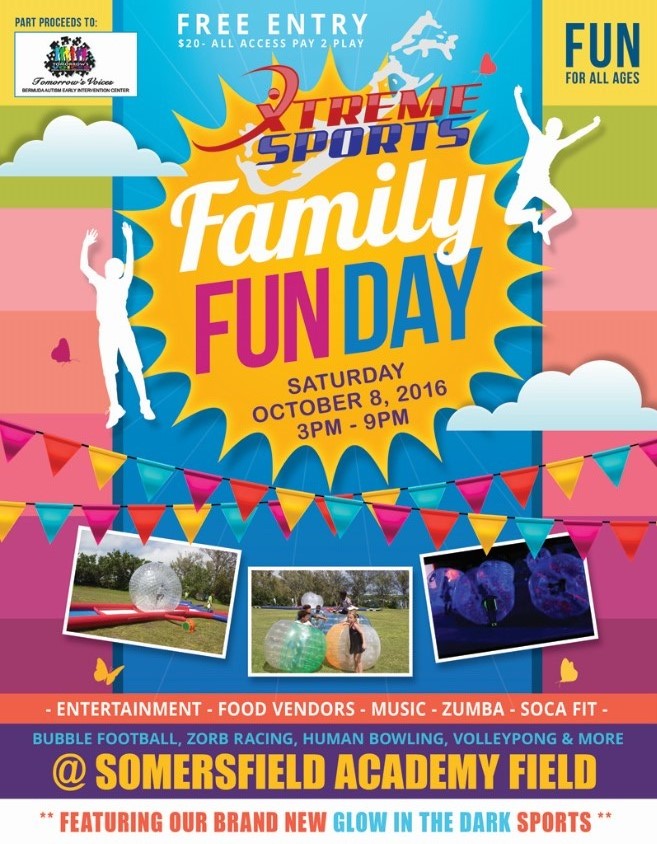 Some of the sports that will be featured include Human Bowling, Zorb Racing, Footy Pong, and Human Hungry Hippos, as well as glow in the dark bubble football, dodgeball, and capture the flag.
According to a spokesperson, "The glow in the dark sports will add a different element of excitement to the event. As a company, we're always looking for new exciting sports, and glow in the dark sports are the next big thing! So naturally, we're excited to bring it to Bermuda for our community to experience."
Another highlight of the event is fitness instructor Geisha Rene who will be giving free Zumba and Soca Fit sessions at the event.
"We wanted there to be entertainment for the whole family. While we would encourage parents to join their children in our sports, Zumba and Soca Fit are other ways they can get involved. Geisha's high energy workouts are in line with our goal of promoting exercise through having fun," the company said.
Slideshow of the Xtreme Sports Games At National Sports Centre in April of this year:
.
Entry into the event is free. However, 'all access pay to play bands' which are required to play any of the sports can be purchased for $20.
Part proceeds from the event will be donated to Tomorrow's Voices- Bermuda Autism Early Intervention Center, with the company saying: "Giving back to the community is an important part of our company's values, and we're delighted to continue to develop our relationship with Tomorrow's Voices."
For more information on the event, visit the Xtreme Sports Facebook event page here.

Read More About
Category: All, Entertainment, Sports