Bermuda's annual Poppy Appeal to aid ex-servicemen and women is to be launched today.
And – for the first time – the appeal will open a pop-up shop and information centre in the Gibbons Building at Reid and Queen Streets in Hamilton.
The paper flowers will be on sale around the island, with the proceeds going towards helping World War Two veterans and the widows of former servicemen – now elderly and with many in need of special care.
The campaign, supported by soldiers from the Royal Bermuda Regiment, kicked off last week, with the first poppy sold to Acting Governor Ginny Ferson.
Carol Everson, welfare caseworker and secretary for the Bermuda Legion, said: "The funds raised by the Bermuda Legion's Poppy Appeal go entirely for the welfare needs of all Bermuda's war veterans and widows. All of our executive and helpers work without salary."
She added: "As the cost of living increases dramatically, most veterans and widows face a very uncertain future, with many suffering from cancers, heart disease, stroke, dementia and Alzheimer's Disease.
"Many find basic needs like hearing aids and vision care too costly and lack of mobility means that many remain housebound and face many difficult challenges in their final days."
 RBR Major Andrew Clarke, WWII veteran Donald Jolliffe, Acting Governor Ginny Ferson, WWII veteran Canon Thomas Nisbett, the Bermuda Legion's Carol Everson and the Governor's Aide-de-Camp Captain Paolo Odoli at Government House.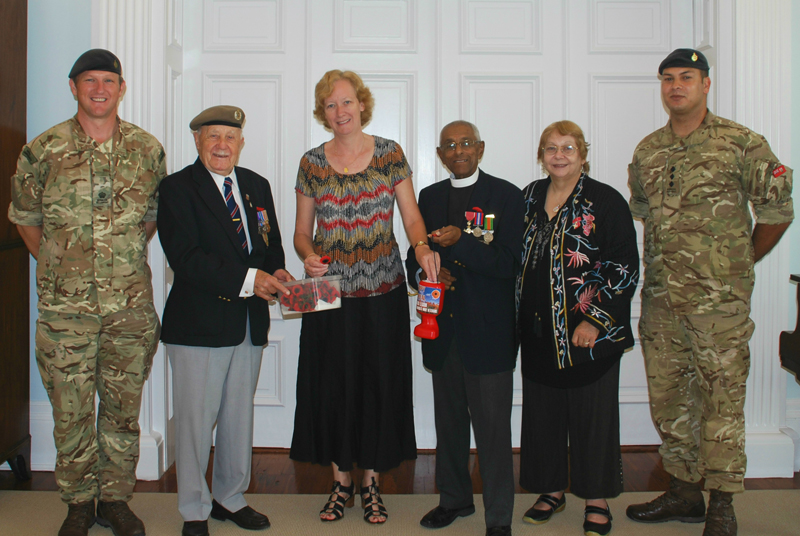 Ms Everson said that the pop-up shop would be vital in helping veterans and their families understand the range of benefits – including some from UK charities – which might be available.
She added: "In some cases, we will be able to send a welfare application to London, which could be of great assistance to the benefits we can provide."
Ms Everson said the Bermuda Legion's top objective was to provide a nursing home specifically for veterans.
She added that, in the last year, the Bermuda Legion had paid for a course for dementia caregivers with Alzheimer's Disease International, with help from insurance firm Argus, which trained 100 people. The course will be repeated next year.
Ms Everson said: "The Bermuda Legion is most grateful for the stalwart and generous assistance of the Royal Bermuda Regiment during the Poppy Appeal."
The Poppy Appeal runs internationally and Bermuda poppies will be on sale until Remembrance Day on Friday, November 11, when the Royal Bermuda Regiment, other uniformed services and veterans will take part in the traditional parade at the Cenotaph on Hamilton's Front Street.
Church services and smaller parades will also take place on Sunday, November 13.
Anyone who wants to help the appeal or who needs poppies and wreaths should call 703 1020 or 293 3975 or email nosoldierleftbehind@hotmail.com.

Read More About