Digicel & BTC this week, announced the launch of their second online Live Chat platform – allowing customers to chat with an agent and get all their questions answered in real time.
"The BTC Live Chat is located at www.btc.bm and is much like its sister Live Chat on www.digicelgroup.com/bm, both of which give customers a quick, easy and convenient way to get answers  - simply by typing their message onto the on-screen window," the company said.
"To date, in addition to general activities like billing queries and signing up for new services, customers have also been using the platform to send files and images to visually demonstrate their issues to the agents. And because this is a web-based service, it means that customers can browse BTC's and Digicel's products and services while on the websites."
"In this progressively high-tech world where customers are always online, it is vital to stay ahead of the curve. One of the ways in which we are doing this is by providing our customers with multiple communication options to ensure their needs are being met in the shortest possible time," said VP of Customer Service, Jakai Franks.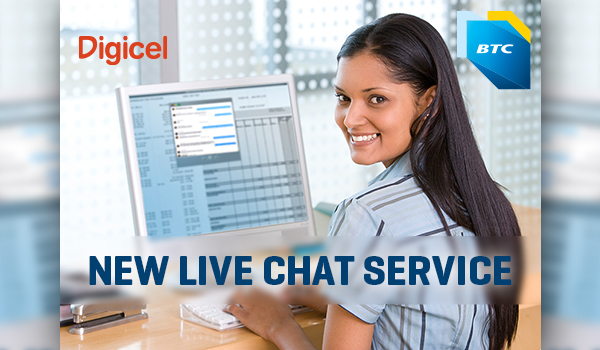 Customers can also email a copy of the conversation to themselves for record purposes and rate the interaction with the agent.
Franks added, "The site is free to use and it's versatile in many other ways. Customers can email their entire live chat session to themselves for record keeping purposes. We also encourage customers to use the rating system to tell us about their interaction with agents as this allows us to make even more improvements as we go along."
"The platform is one of the many solutions offered by Digicel & BTC as part of their commitment to serve all customers including the hearing impaired and others who cannot use voice only customer services," the company added.
Franks explained, "Beyond our Live Chat platforms, we have a quite a few communication and self-serve solutions for customers, including the My Digicel app for Digicel customers and My Account for BTC customers."
The My Digicel App allows users to check their balance, buy plans, top up, send credit, pay their bills and activate a roaming pass. For BTC, My Account allows them check their balance and pay their bills online. "Our goal is to give our customers the power to manage their services and modernize our communication system to meet their wide-ranging needs," closed Franks.
BTC's Live Chat platform is open Monday to Saturday from 8:30am – 5pm and Digicel's platform is open Monday to Saturday from 8:30am – 6pm. When the agents are away, the Live Chat window will accept a customer's information with their query and an agent will contact the customer as soon as possible.
For any further information on these services please contact our customer service team at 500-5000 for Digicel, 295-1001 for BTC or log on to Live Chat on www.digicelgroup.com/bm or www.btc.bm

Read More About
Category: All, Business, News, technology