Bermuda-based international charity KATKiDS is holding its popular annual Night Market this evening [Nov 18], and supporters can get a head start on their holiday shopping at the event which takes place from 5.00 p.m. – 9:00 p.m. at Lower Pier 6 on Front Street in Hamilton.
The annual exotic and festive evening is organized by KATKiDS to raise funds for children in need in Bermuda, Nepal and southern Africa. The $10 event ticket price goes directly to Bermuda charity, The Eliza DoLittle Society to feed Bermuda's hungry, many of them children.
In its tenth year, the annual KATKiDS Night Market is an acclaimed fixture on Bermuda's yearly events calendar.
KATKiDS event Chair, Francesca Cacace, said: "We want people attending to know that 100% of the profits and donations from the event support children in need, so it is a double win.
"It's a unique opportunity to enjoy music, food and drink in a festive atmosphere and to shop for beautiful and unusual gifts for the upcoming holiday season all with the satisfaction of knowing that your purchases will do so much for children in need."
Shopping for the Night Market at a Nepal market: Tracy Tepper, Bermuda resident and founder of Nepali NGO partner Gentle Rain Bermuda and Jennie Lee O'Donnell, KATKiDS Chair.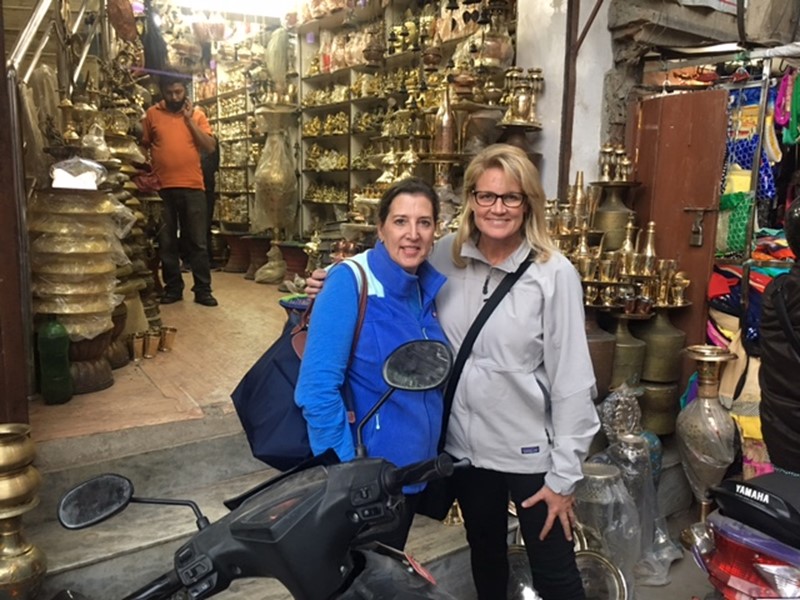 KATKiDS' 2016 Night Market encourages mingling and shopping through a variety of decorated and themed market stalls including Nepali and southern African products including art, crafts, jewelry, scarves, tea, and incense.
Pembroke Rotary Club of Bermuda auctioneer Donato Sqobba will auction a wide range of handpicked, authentic and original artisan crafted items and alluring original paintings while a silent auction will feature items of jewelry and artifacts.
Beer, wine and soft drinks are for sale at happy hour prices and Nepali/Indian food will be for sale this year provided by House of India. Tickets can be bought online in advance via www.bdatix.bm or from Stefanel on Reid St. or purchased at the door from 5.00 p.m. with cash or card.
Children getting lunch through the Food For Education program funded by KATKiDs via​ local Nepali NGO partner Gentle Rain Bermuda.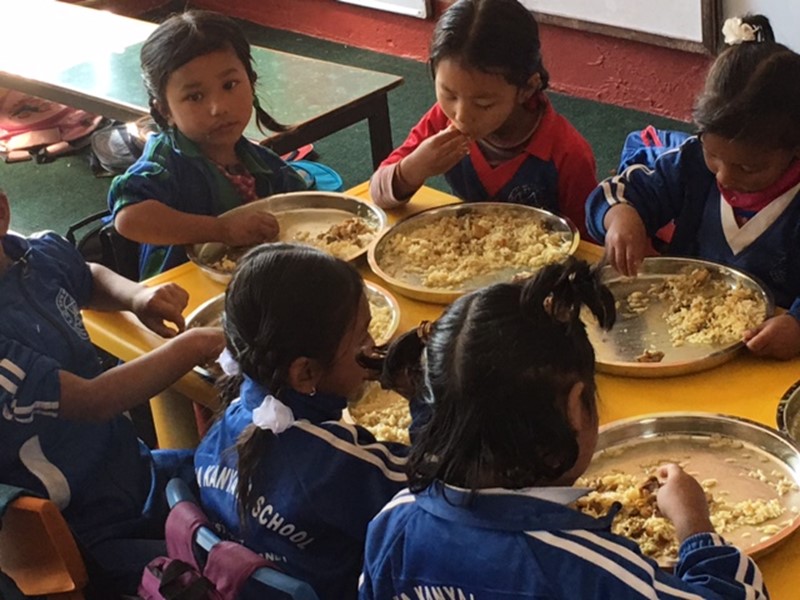 Nepal's series of earthquakes and aftershocks in April 2015 caused 8,600 casualties and widespread destruction of infrastructure including an estimated 500,000 homes. In May 2015 KATKiDS launched the KATKiDS Nepal Earthquake Appeal and through August 2015 successfully raised just over $62,000 for relief of the victims of the earthquakes, providing emergency funds to KATKiDS's Nepali partner's non-governmental charitable organizations, Asha Nepal and Gentle Rain Nepal.
Gentle Rain Nepal works with at risk children in Kathmandu, Nepal. Asha Nepal is a human rights organization dedicated to the social and economic empowerment of women and children affected by sex trafficking in Nepal.
KATKiDS also supports FoodForward South Africa [formerly FoodBank], which provides over 11,000,000 meals to South Africa's hungry. Specifically, KATKiDS supports the Elizabeth Syre and Yolisa Children's Home, which provides shelter for children in need and daycare for children from the community whose parents can't afford to send their children to a formal daycare facility.
KATKiDS also support the Coalition for the Protection of Children's breakfast program here in Bermuda.
Read More About
Category: All, Entertainment