Growing up, sisters Lindsay Durham and Kara Simmons watched their parents run a small restaurant in St. George's.
Many of their childhood memories are of sitting on the kitchen counter at Fort William Gun Powder Tavern taking in all the exciting tastes, sights and sounds.
It's no wonder today they've both chosen careers in the hospitality industry.
Ms Durham, 35, is now the Director of Operations and Human Resources at Rosa's and Chopsticks, while younger sister Ms Simmons, 29, runs her own healthy catering company inside of Rosa's on Front Street.
In addition to working together, the siblings also volunteer together – giving their time regularly to teaching young people at Whitney Institute about the island's hospitality industry through Bermuda Hospitality Institute's educational programmes.
"[The owner of Rosa's] Pamela [Quarterly] and I teach a class at Dalton E. Tucker Primary and Kara and I teach another at Whitney," Ms Durham explained.
"I've been surprised by how the young people respond to our lessons. When I first walked into the class at Dalton E. Tucker it was all boys in the room and I was skeptical if they would enjoy it and be able to sit still, but they actually did. They all took part.
Lindsay Durham and Kara Simmons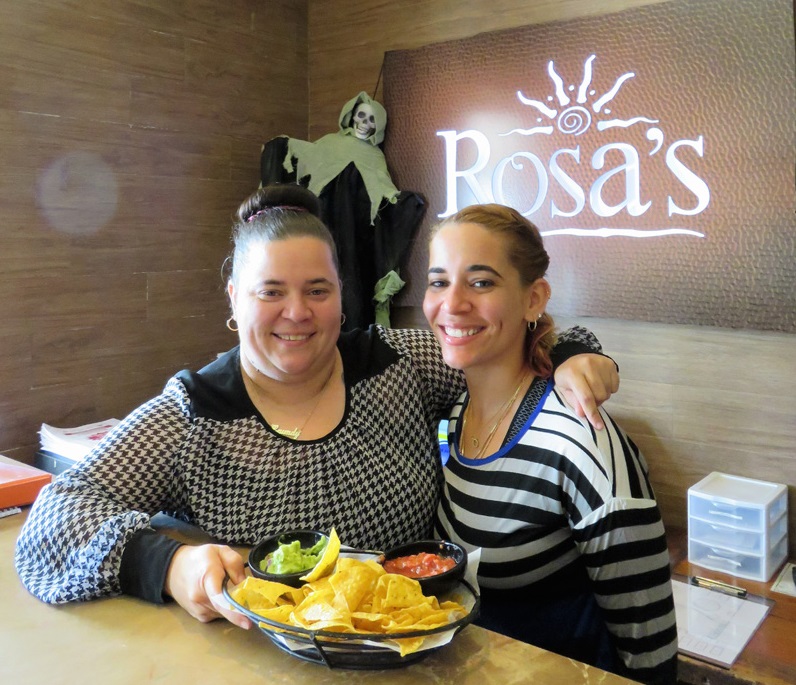 "A lot of them didn't know what the two days of Cup Match were celebrated for or even what they were called, so we gave gift certificates to encourage them to find out the answers – Emancipation Day on Thursday and Somer's Day on the Friday."
One of Ms Durham's goals is to show young people that hospitality is about more than just restaurants and hotels.
"It's us being mini ambassadors on the streets and feeling confident enough to talk to tourists or even locals who still don't know these things," she said.
"Myself I've learned a lot as well through the BHI, like the history of St. Mary's Church. Bermuda is so rich in history and while we learn a lot about other countries and their histories, like the US and rest of the world, it's important to also know where we come from as Bermudians."
Ms Durham first became affiliated with the BHI two years ago after hearing the organisation was looking for people to join its Certified Tourism Ambassador programme, a training initiative that gives hospitality workers tools for how to enhance the visitor experience.
"I got on board when they first offered the flagship CTA programme," Ms Durham said. "Myself and a couple of our staff took part to become Certified Tourism Ambassadors.
"It was very informative and I learnt things even on the history of Bermuda that I didn't necessarily know. It opened up my eyes so I could talk more about the island. And it gave me more knowledge than what I was exposed to in school. It's information I utilise now all the time."
Ms Simmons admits she's a big fan of BHI's educational programmes as well.
"I really enjoy the interaction between us and the middle school kids and the fact these young people are being told this industry exists as a viable career option," Ms Simmons said.
"When I was in school we were taught we could go into accounting, insurance, law or medicine if you were smart. These were the only careers teachers were pushing you towards, but hospitality is such a diverse industry and can take you to so many different places in the world."
Even if students aren't interested in a fulltime career in the sector, being hospitable is still a valuable characteristic, Ms Simmons explained.
"In Bermuda our people are our best asset," she said. "In Bermuda we don't have steel mines or natural gold, so we have to use our people to build up money and capital."
One of the first things Ms Durham asks when she starts off each hospitality lesson is 'what makes Bermuda unique?'. She gets a host of different answers from the young people, but one of the main ones is our sociability.
"You go to other places in the world and you don't really see people saying 'Hi, how are you?' in the street, so I try to bring it back to the basics and fundamentals of our island culture in the hopes they will continue with that as they get older."
Both sisters believe such educational programmes should be embraced at more schools on the island.
"The BHI's programmes should be part of our curriculum because we are losing so much of who we are and it's important for people to see this industry as an option," Ms Durham said.
"If the insurance companies or international businesses falls away we will have to fall back on what we have always done, which is tourism and making people feel at home on our shores."

Read More About
Category: All, Business, Entertainment, News