The Bermuda Olympic Association [BOA] today announced the results of the 1st December election of Committee Members who will lead the BOA for the ensuing quadrennial period, to December 2020.
Stanley Douglas, who was previously a general Member of the Committee has been appointed to the role of Secretary General, replacing Philip Guishard, who passed away earlier this year.
Katura Horton-Perinchief's appointment election as a Committee Member has resulted in a vacancy in the role of Athletes' Committee Chairperson, which will be filled in due course.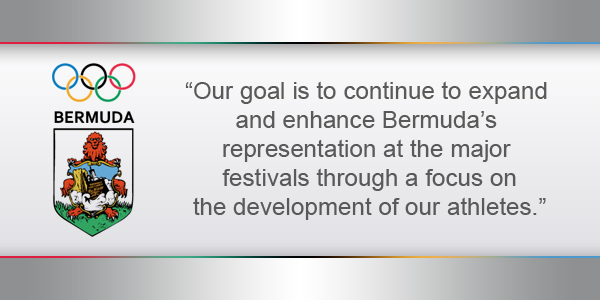 Judy Simons, who ran unopposed and was re-elected to the role of President for a third term, said "It is gratifying to, once again, be entrusted with the leadership of the BOA for another four years.
"Over the next quadrennial—which will take us through to the end of the Tokyo 2020 Games–my focus will continue to be on building stronger ties between the BOA and the international sports organisations that run the major festivals, and locally with the National Sports Governing Bodies.
"Our goal is to continue to expand and enhance Bermuda's representation at the major festivals through a focus on the development of our athletes."
Elected and re-elected Members are as follows:
President: Judy Simons, J.P. [re-elected]
Vice: President: Brenda Dale [re-elected]
Secretary General: Stanley Douglas
Treasurer: Carlos Lee [re-elected]
Member: Patty Petty [re-elected]
Member: Katura Horton-Perinchief
Member: David Sabir [re-elected]
Member: Craig Brown
The BOA also recently announced the Chefs de Mission for select major international sports festivals during the next quadrennial. They are as follows:
2017 Youth Commonwealth Games – Nassau, Bahamas – 18-23 July 2017: Ms. Mia Black
2018 Winter Olympics, PyeongChang, South Korea – 9-25 February 2018: Mr. Michael Murphy
2018 Commonwealth Games – Gold Coast, Australia – 4-15 April 2018: Ms. Katura Horton-Perinchief
2018 CAC Games – Barranquilla, Colombia – 20 July-2 August 2018: Mr. Jon Beard
2018 Youth Olympic Games, Buenos Aires, Argentina – 1-12 October 2018: TBC

Read More About