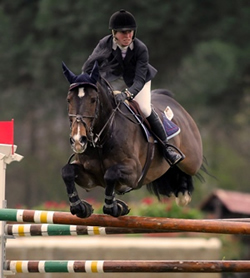 The final day of the Pan American Games 2011 equestrian show jumping competition in Guadalaraja, Mexico today [Oct. 29] was reserved for the individual competition and the USA was looking forward to another clean sweep — but this was not to be.
Bermuda's Jillian Terceira [pictured] and her horse Bernadien were placed in eleventh going into the final day which consisted of two rounds of jumping for the top twenty five placed riders after the end of the team competition. Unfortunately Bermuda's other representative Patrick Nisbett and Cantaro did not make the cut.
The scores from the previous rounds were carried forward and Jillian was in the middle of the pack in 11th place with a score of 9.24 penalties. In the first round Ms Terceira and Bernadien had one rail down for four faults and one time penalty giving her a total of 14.24 and a place of 12th overall.
Three US riders still held down the first three places, but were closely followed by riders from Brazil and Canada, the latter being six time Olympian Ian Millar, and this illustrates the quality of the field.
The final round proved to be very exciting with Captain Canada Ian Millar withdrawing his horse prior to the start of the round. Ms Terceira was 14th to go and in the words of Chef d'equipe Heidi Mello they did a beautiful round incurring only two time penalties and being only one of five to complete the round without jumping penalties. Her score of 16.24 was good enough for a final placing in eighth.
Beezie Patton of the US who had led the competition from round one with a clean sheet incurred one time penalty which dropped her to second place and one rail down by McClain Ward allowed a Brazilian rider Bernado Alves to finish in third place
This excellent result ensures that Bermuda has gained a spot in equestrian show jumping for London Olympics 2012, but the island will only be able to send one individual rider.
Read More About