'Kings of the Hype Part 2′ is set to take place on Saturday, February 4, giving performing artists the opportunity to "prove who is the king of the hype."
A spokesperson said, "For as long as we can remember, Bermuda's dancehall reggae scene has always had a "King Sound" which is a sound that can entertain the crowd, a sound that the people support and a sound that represents Bermuda locally and overseas.
"Since the decline of the local dancehall scene in the late 2000s, there has not been a "King Sound" of Bermuda. Many would say that Playbwoy Sound was king of the party scene with iconic events such as the Bermuda College Jams, the 24th of May after party on Till's Hill and Playbwoy's Anniversary party during Cup Match.
"Souljah 1 Sound was the king of the clash scene competing against sound system legends such as David Rodigan, Metro Media, Bass Odyssey, Earth Ruler and many more iconic sounds of the culture.
"As the local dancehall scene has evolved over time a new generation of sounds and DJs have emerged that feel that they are ready to challenge for the coveted title as "King Sound."
'King of the Hype' audio promo [click play to listen]:
"Wyld Life Promotions has decided to showcase some of Bermuda's best in the form of a "Who can Buss the Dance" event titled "Kings Of The Hype Pt 2 Hardcore juggling Style" on February 4th 2017, featuring the 2015 "Killer Cup" Champion Young Gunz Sound with DJ Scoobay, the 2016 "Suicide or Murder Clash" Champion OGS Genesis Sound with Snake, Prophecy International with Lava Ras and Souljah 1 Sound with Magixx.
"The event will consist of the four sound systems competing for the most consistent and biggest crowd response [forward] as they spin 45's [original songs] & dub-plates [custom song by artist] of various genres of music.
"As SB4L spoke with Fyah Reddz of Wyld Life promotions he had this to say about the upcoming event."
"This event is about entertainment for the people and the sound's ability to connect with the people but also to showcase each sounds dub box quality.
"A lot of Bermuda's Sound spend time, money and creative energy acquiring dub-plates so they should have a place to showcase them.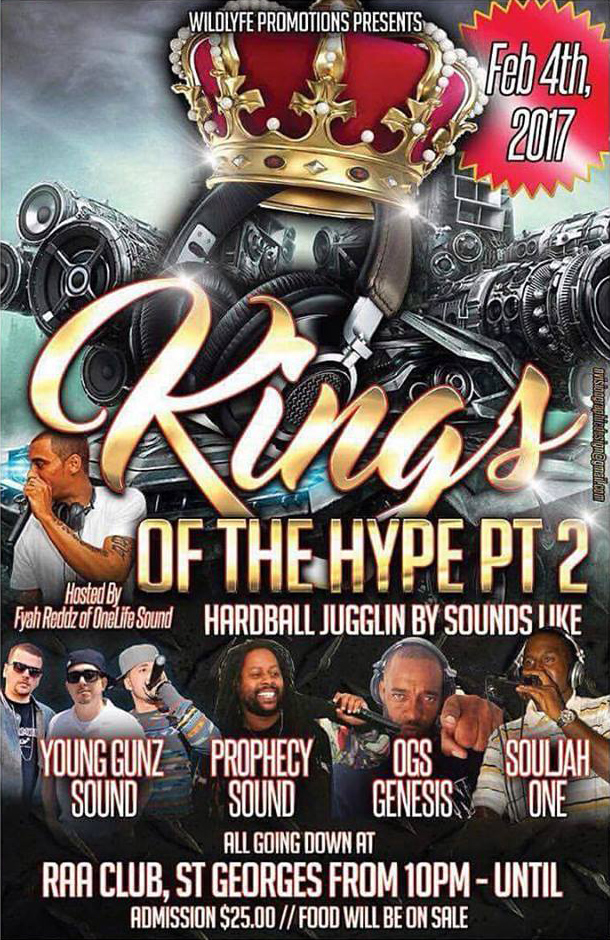 "Prophecy Intl Lava Ras has been receiving some good exposure in recent years with consistent local bookings, a weekly show on "Zion Highness" online-radio, and several overseas clash including the "Instant Disaster Clash" in New Jersey on January 14th 2017.
"Young Gunz Sound has also been active internationally within the European and North American bookings in recent years as well as being featured on the upcoming Love & Harmony Cruise Spring of 2017.
"Since the return of Magixx to SJ1, they have re-established their brand of hardcore sound system vibes but also showcase the ability to mix it up with the top 40 crowd of Front Street, being featured on several of Bermuda's Big stage show events and recent bookings in Europe several months ago are a sure sign Magixx and Souljah 1 Sound are back.
"OGS Genesis has not been active in Bermuda until the recent "Rory & Gefus of Stone Love Sound" concert at National Stadium this summer but have enjoyed success with its New York based selector Hyper Baje who has clashed and won in 2016 and has featured along some of New York iconic sound system and DJs on several dancehall events on the east coast of America."
"To sum it all up these are several of Bermuda's best that have risen to the occasion when challenged, entertained for hundreds of events and have taken their talents to the international stage where they have performed well. At "Kings of The Hype Part 2 Hardcore Juggling Style" on Saturday, February 4th 2017, they will prove who is the king of the hype."

Read More About
Category: All, Entertainment, Music