Following a call by the BIU President and the People's Campaign, people gathered for meetings and marched through Hamilton today, with the day ending with plans to return tomorrow morning.
The BIU held a general membership meeting this morning and the People's Campaign held a meeting at St. Paul AME Centennial Hall this afternoon, with both meetings called after it was announced that Rev Nicholas Tweed's work permit would not be renewed.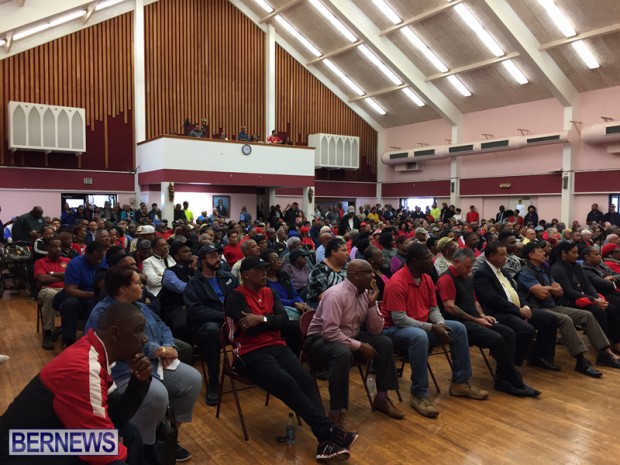 Last week, Home Affairs Minister Patricia Gordon-Pamplin said, "In this particular instance, the applicant failed to comply with rules that were put in place for everyone. As a result, I had no choice but to uphold the previous decision to refuse the new application."
Bus service was impacted today, and in a statement last night, Minister of Tourism, Transport & Municipalities Michael Fahy said he was "profoundly disappointed" that the BIU advised that there would be no buses from 8am today, saying that "this advisory does not fulfill the terms of the collective bargaining agreement" and the "issues to be discussed do not relate to labour issues."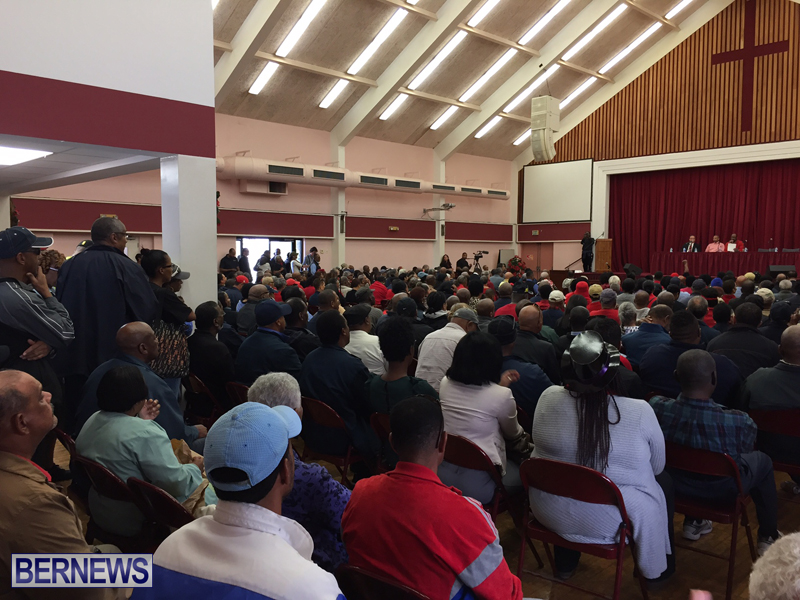 Speaking at this afternoon's meeting, BIU President Chris Furbert said, "There was a decision taken earlier today at the BIU meeting."
"The final motion was that the BIU membership had decided not to return to work until this matter with Rev Tweed and the airport project is resolved."
"What they added to that, was that we need to inform the Government that if these two matters are not resolved, then the America's Cup will be in jeopardy," Mr Furbert added.
In closing out the meeting today, BPSU President Jason Hayward said, "The situation on the ground hasn't changed for us, it's business as usual, tomorrow we should plan to meet here for 9am. Until this matter is resolved, we will continue on our mission."
Bishop Gregory G.M. Ingram arrived on the island and met with Premier Michael Dunkley this afternoon, and following the meeting, the Premier said they "had a full and frank discussion" and he "reviewed the position taken by the Minister of Immigration."
The Premier said the "reasons for this decision are clear", citing a failure of the employer to advertise and failure to provide accurate and complete information, with the Premier saying that "the Government's position on the matter is therefore unchanged."
The first four videos below show sections of the first People's Campaign meeting, and then the last three videos are live video replays.
The first live video replay is the first meeting [which the first four also show, just posted by speaker], the second live video replay shows 2.5 hours of people gathering on Reid Street, and the last live video replay shows the second People's Campaign meeting later in the afternoon, where the Bishop addressed the crowd.
BPSU President Jason Hayward speaking at the first People's Campaign Meeting
BIU President Chris Furbert speaking at the first People's Campaign Meeting
Rev Tweed speaking at the first People's Campaign Meeting
Crowd cheers as Rev Tweed enters the first People's Campaign Meeting
1-hour video of the first People's Campaign meeting:
2.5 hour live video replay of the march & gathering on Reid Street:
1 hour 40 minute live video replay of the second People's Campaign meeting:

Read More About