[Updating] Two meetings are expected to take place today [Jan 3] with the BIU holding a general membership meeting at BIU Headquarters at 9.00am, while the People's Campaign is holding an "urgent meeting for all concerned residents of Bermuda" at St. Paul AME Centennial Hall at 12 noon.
Public services are expected to be impacted today, with the Government previously advising that "there will likely be a disruption of public services including buses and ferries as well as garbage collection."
Minister of Tourism, Transport & Municipalities Michael Fahy said he was "profoundly disappointed" that the BIU advised that there would be no buses from 8am today, saying that "this advisory does not fulfill the terms of the collective bargaining agreement" and the "issues to be discussed do not relate to labour issues."
Both meetings follow after it was announced on December 29th that Rev Nicholas Tweed's work permit would not be renewed.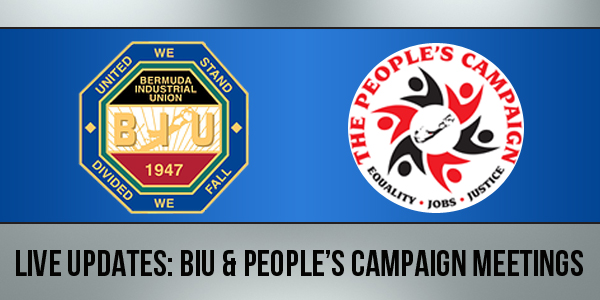 Last week, Home Affairs Minister Patricia Gordon-Pamplin said, "In this particular instance, the applicant failed to comply with rules that were put in place for everyone. As a result, I had no choice but to uphold the previous decision to refuse the new application."
"The position was not advertised despite repeated requests by the Department to do so, and the actual application was incomplete and contained inaccuracies. On the basis of these failures to fulfil the requirements of Immigration policy, the work permit application was rejected," the Minister said.
The People's Campaign said that the denial of Rev. Tweed's work permit "is political" as "the OBA Government and their supporters would like nothing more than to see Rev. Tweed placed on a plane and shipped out of the Country."
In calling the meeting, the People's Campaign said, ""If you are opposed to Bermudians being pepper sprayed by Police, if you are opposed to the Airport Redevelopment Deal, if you are opposed to Governments refusal to renew Rev Tweed's work permit, you are urged to come out to St. Paul AME Centennial Hall at 12 noon on Tuesday January 3, 2017. Please wear the color red. The time to act is now. Enough is finally enough!"
Your screen will automatically refresh with the latest updates:
Read More About