The Bermuda Underwater Exploration Institute's [BUEI] Talks series is getting set to present "America's Cup in High Gear: 2017 & the Big Show in Bermuda" with Jack Griffin on Monday, February 13, beginning at 7.30pm.
The event poster says, "Jack Griffin is Editor of Cup Experience, a unique newsletter and website dedicated to audience engagement or the America's Cup. Jack's book Turning the Tide provides the definitive account of how Oracle Team USA mounted their comeback to defend the America's Cup in San Francisco.
"Four teams are here and will launch their race boats in February. France and New Zealand will arrive in March. Five of the teams have announced how they will run the America's Cup in 2019 and 2021 if one of them wins.
"Jack Griffin returns to BUEI for another entertaining Cup Experience Briefing. Find out who will win and why. Find out what's happening and when."
The presentation will get underway at 7.30pm, with a Sushi Happy Hour to be held at Harbourfront from 5.00pm to 6.30pm, with dinner opening at 6.00pm.
Tickets cost $20 for members, $25 for non-members and $10 for students, and are available by calling 294-0204 or visiting BUEI's Oceans Gift Shop.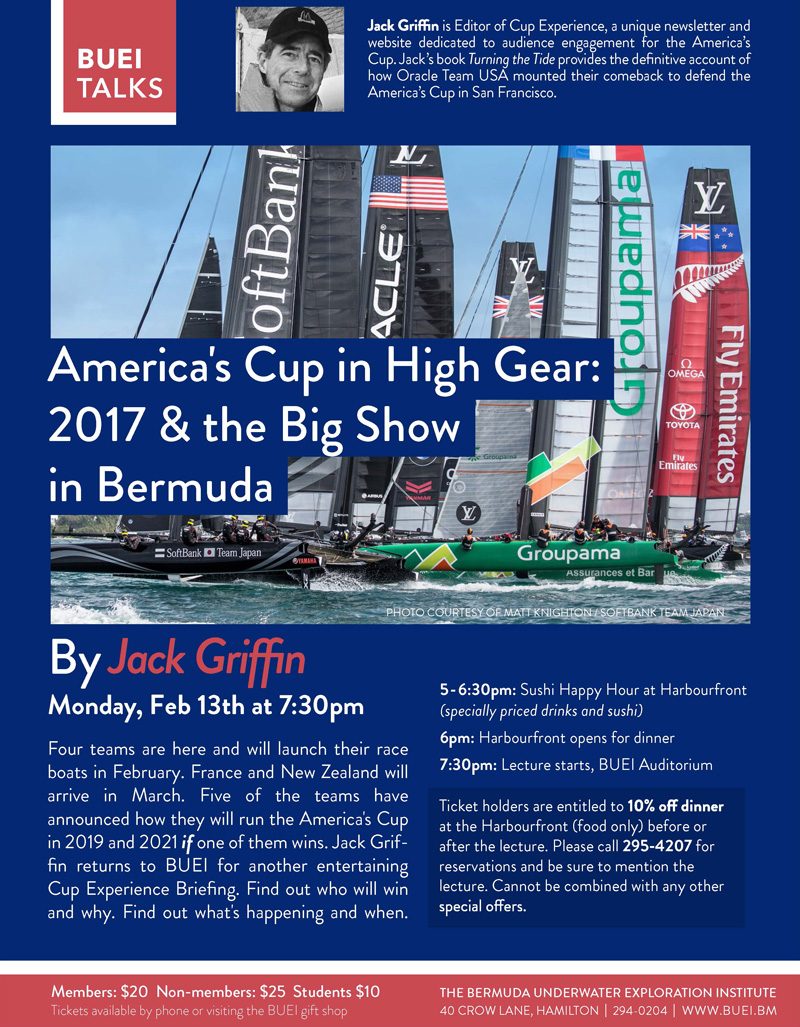 Read More About