The 18th edition of PechaKucha Bermuda will be held on Friday, February 17 at the Somerset Cricket Club from 6.30pm to 10.30 pm, with Heidi Cowen, Owen Siese, Kemda Bean, Geoff Parker, Dawn Simmons, Denise Riviere, Nicky Gurret and Karriem Sharrieff set to deliver presentations.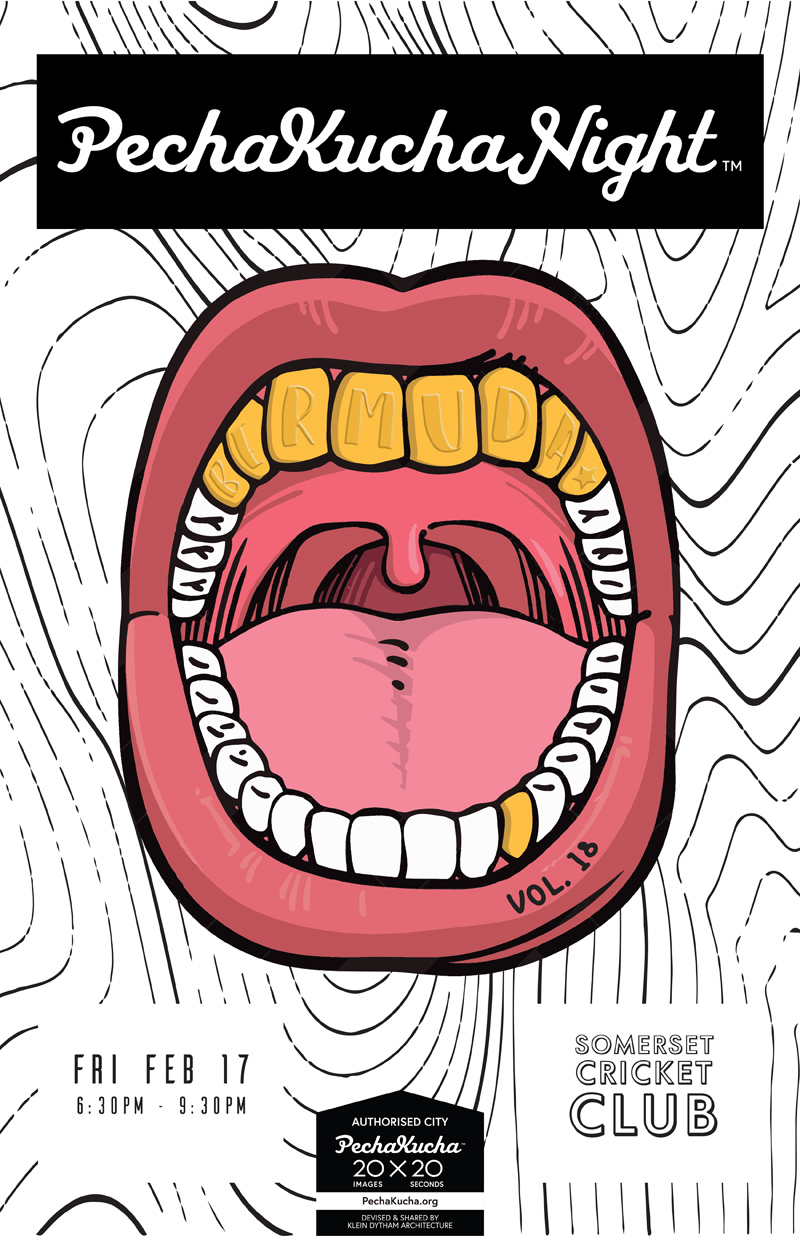 "The venue is Somerset Cricket Club where food and drink will be available for sale. Organisers are grateful to the host club Somerset Cricket Club, William Sprigg from BEDC and Cushi Ming for helping to make the event possible," a spokesperson said.
"Pecha Kucha's were started by a pair of Tokyo-based architects who tackled this problem: How do you get a bunch of visual visionaries, many of them isolated, introverted, self-employed people who tend to hunch all day behind their computers, out into meeting space, communicating, drinking, networking?
"The solution – Give them a format and a chance to talk about their current interests and listen to others doing the same. PechaKucha means 'chitter chatter' in Japanese.
"The format is called a '20×20′ where 20 images are projected on a screen, each for 20 seconds, while a presenter talks along with the images.
"The presentation is automated, so there is no "Can you go back one?" or "Next slide, please"; it is concise and rapid and an entertaining way to spend a Friday Night.
"Pecha Kucha Night Bermuda in Bermuda was started and is organised by Nicky Gurret, Aideen Ratteray Pryse. Najib Chentouf has also been helping to organise the events over the last two years.
"The event takes place at different venues all over Bermuda and this is the 18th edition. There have been four a year in Bermuda since November 2012, and this is the fifth year of Pecha Kucha Bermuda.
Topics and presenters for the 18th Edition are:
"Kemda Bean is "Bare Necessities – Giving a Hand Up"
"Geoff Parker is "Mangrove Bay Beach Improvements"
"Heidi Cowen is "10 Magical Stops in the West End"
"Nicky Gurret is "The Essence of Bermuda Vernacular Architecture"
"Karriem Sharrieff is TBD
"Denise Riviera is "America's Cup. Our Moment"
"Owen Siese is "Flying on the Water"
"Dawn Simmons is "The Return of Silver City"
Read More About
Category: All, Entertainment