PechaKucha Bermuda is hosting their 30th edition at 6.00pm tomorrow [Feb 20] with Cushi Ming, Sara Westhead, and Ashley Aitken to represent the island during the online International PechaKucha Day 2021.
A spokesperson said, "PechaKucha Bermuda is hosting its 30th edition on Saturday, February 20, 2021, with short, dynamic, powerful presentations starting at 6:00 PM. Three Bermudian creatives – Cushi Ming, Sara Westhead and Ashley Aitken – will represent our island on the global stage during a record-setting, 24-hour, online-around-the-world event: International PechaKucha Day 2021.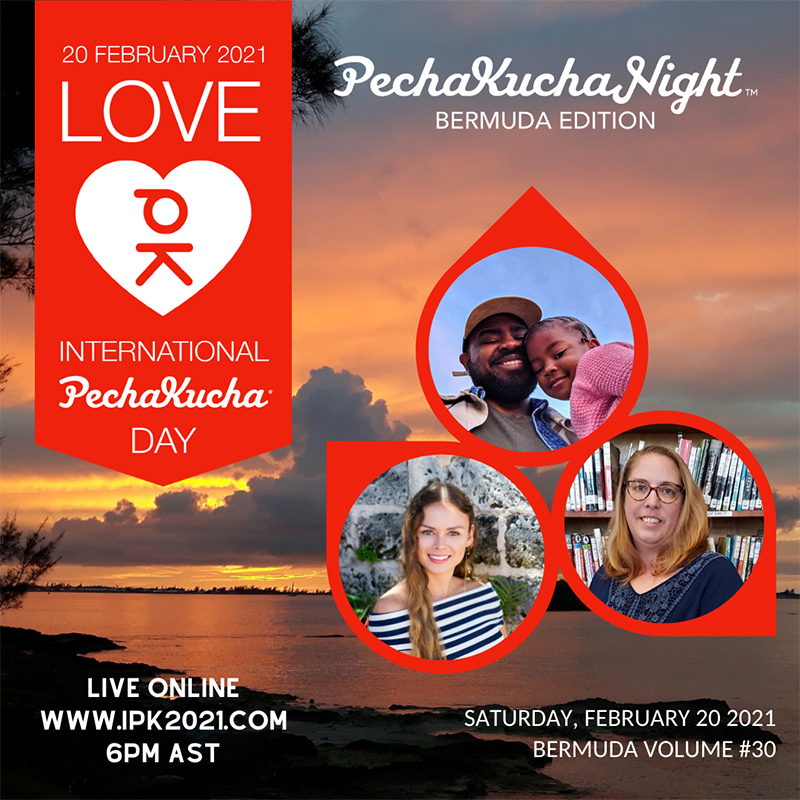 "International PechaKucha Day features passionate people from every corner of the globe coming together to share what they LOVE. Black Self-Love, Educational Technology and Flow Arts are Bermuda's three topics at 6:00 PM local time (AST), during #IPK2021 Hour 20 of 24.
"The format for PechaKucha Presentations is simple; 20×20. That means 400 seconds of fast-flowing optical enjoyment, coinciding with 6 mins 40 seconds of narration to complement the visuals, as 20 slides flash on the screen for 20 seconds each. New, super speedy 10×10 and 10×20 presentations will also be featured.
"February 20th is a special day on the "PK" calendar, as it's PechaKucha Global's birthday, and is Bermuda's second time participating in International PechaKucha Day. PechaKucha Bermuda is excited to join cities in all 24 time zones and to commemorate 30 editions of broadcasting our local creativity to the world.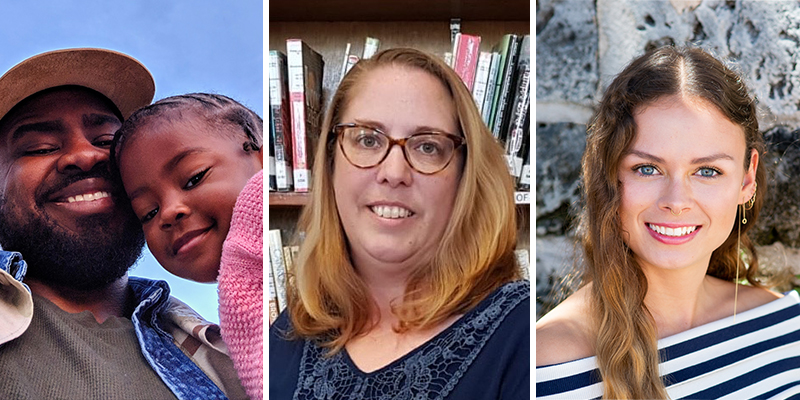 PechaKucha Night Bermuda Vol 30 – International PechaKucha Day 2021
What: Three short presentations by Bermudian creatives, Cushi Ming, Sara Westhead and Ashley Aitken
Where: Online via Zoom and YouTube
When: Saturday February 20, 2021 from 6:00 PM – 7:00 PM Bermuda time [AST]

Note: The 24-hour global event, based in Tokyo, Japan, runs from Friday February 19, 2021, 11:00pm – Saturday February 20, 2021, 11:00pm AST.

How: There are two ways for people to tune in to International PechaKucha Day on Saturday.

1] Register for the 24-hour Zoom webinar

How much: Free.
About the Presenters:
"Cushi Ming is a certified Life, Leadership and Law of Attraction coach and High-Vibrational being on a mission to raise the vibration of the entire planet. Taking action to empower BIPOCs and to educate our allies, Cushi spreads a powerful message of Spiritual wisdom and practical knowledge, uplifting and inspiring historically marginalized communities, individuals and businesses. Cushi fuses ancient Spiritual and mystical principles with leading edge information, tactics, tools and practices, breathing new life to the mundane while providing clear, simple and actionable ways to help people to manifest the lives and businesses of their dreams. Cushi's presentation is entitled, "Black Self-Love, A Revolutionary Act".
"Sara Westhead is a wife and mom, National Geographic Certified Educator, Librarian, English Teacher and Head of Electives at Whitney Institute Middle School. She is also the only Google Certified Trainer in the Atlantic/Caribbean region. Sara will present her love for Educational Technology.
"Ashley Aitken is a 24 year old performer, creator, athlete and environmentalist who has the best of Bermuda and Denmark. She has competed in Pole Fitness and has been studying photography. Due to Covid she made the decision to put her studies on hold until 2022 and stay in Bermuda until then. She currently works part time at Sargasso Sea as a delivery agent, self employed as a photographer, founder, owner and performer at Vivid Elements, part-owner of Bermuda PhotoBooth Rentals and The Beam Team, Fitness Coach at Fight City Fitness, and last but not least a volunteer at Cats LTD. In 2021, she is looking forward to opportunities, projects and a Muay Thai competition in the US, along with continuing her zero waste journey. Ashley looks forward to sharing her love and passion for Flow Arts with viewers.
"PechaKucha Bermuda is a volunteer-run organization that has been cultivating Bermuda's creativity through PechaKucha events since 2012. Poster credit and big thanks to Hannah Collins for our Volume 30 #IPK2021 poster!
"If you've been thinking about presenting or volunteering at a future event, reach out to us by email at: pechakuchabermuda@gmail.com. For more information about PechaKucha Bermuda, visit our website. For more information about International PechaKucha Day, visit www.ipk2021.com."
Read More About
Category: All, Entertainment, News