The 20th edition of PechaKucha Bermuda will be held on Thursday, August 24th at 7.00pm, dockside at Blue Water Anglers Club on East Broadway in Hamilton.
A spokesperson said, "The 20th edition of PechaKucha Night Bermuda is scheduled for this Thursday, with food available and doors opening at 7:00 PM, and presentations beginning at 8:00 PM outdoors on the dock at Blue Water Anglers Club on East Broadway in Hamilton.
"An eclectic line up of eight presenters have been organised to present a broad spectrum of unique topics. The format of PechaKucha is called "20×20" where 20 images are projected on a screen, each for 20 seconds, while a presenter talks along with the images.
"The presentation is automated, so slides transition regardless of the presenter completing the slide or not. The format ensures that presentations are concise and people often describes them as TED talks on speed.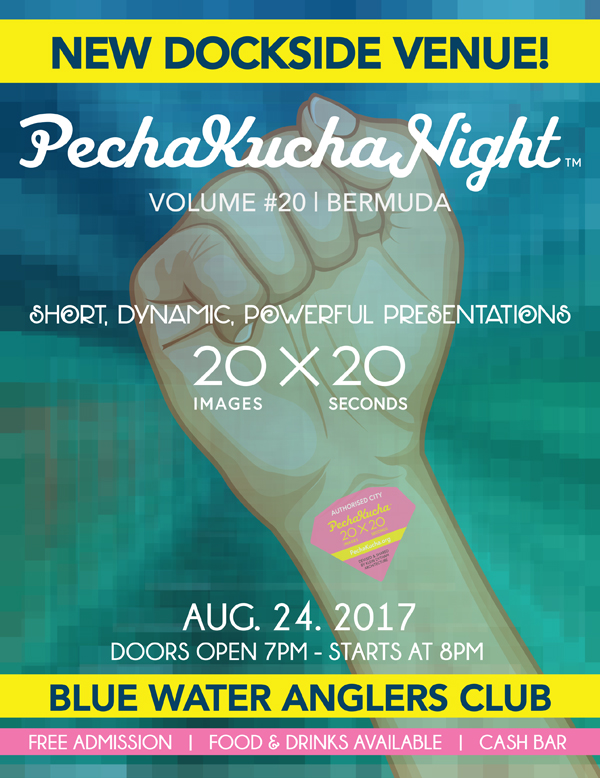 "Presenters will include James Cooper, with "Bananas in Art," a shortened version of a show that he presented at the National Gallery of Jamaica. It's 'about' bananas, but also about the grey area between online art and art shown in real physical space. He intends to discuss the importance of art and artists exploring the irrational and the illogical in our reasoned corporate age.
"For the first time, 14 year old Yassine Chentouf will present at PechaKucha on Thursday. He will discuss the ancient mythologies of Greek and Egyptian culture and their lasting effect on our Modern World.
"Sara Westhead, a blogger, librarian, teacher, mother and a woman of many trades and experience, will be sharing her experience dealing with High Functioning Autism and what she has learned from it.
"Cushi Ming will present what he has learned from his relationships, while Christian Chin-Gurret will speak about Reality vs Expectations of University, and Nikki Fagan will present on "The Mother of Invention."
"Christopher Faria will highlight his experience with the Grow Biointensive method of farming and gardening in Bermuda, and Crystal Clay will talk about building strength based communities.
"PechaKucha Night Bermuda in Bermuda was started in 2012 by Nicky Gurret and Aideen Ratteray Pryse, and is now organised by volunteers Alba Fernandez, Kimberley Moore, Tiffany Paynter, Najib Chentouf, Stratton Hatfield and Hannah Collins.
"PechaKucha Nights involve a variety of people presenting their out-of-the-box creative ideas on any topic of their choice for everyone to enjoy, think about, laugh at and, maybe, be inspired by. The event is free and open to the public while donations are accepted to give back to the hosting club and buy drinks for the presenters. There will be food for sale in addition to drinks from the bar. Attendees are asked to bring their own reusable cups to help reduce plastic waste.
"Come one, come all, and be inspired by people thinking and doing different things in Bermuda. PechaKucha is hosted four times a year, every three months and if you are interested in presenting at the next event, please contact Alba Fernandez at albaytal@hotmail.com.
Topics and presenters for the 20th Edition are:
Christopher Faria – Grow Biointensive Bermuda
Yassine Chentouf – Mythology and its Impact on our Modern World
Christian Chin-Gurret – Reality vs Expectations of University
Sara Westhead – What I've Learned About High Functioning Autism
Nikki Fagan – The Mother of Invention
Cushi Ming – What I Learned From My Relationships
Crystal Clay – Building Strength Based Communities
James Cooper – Bananas in Art
"For more information visit here and follow us on Facebook and Twitter @PechaKuchaBDA"
Read More About
Category: All, Entertainment