The 22nd edition of PechaKucha Bermuda will be held this Thursday [Feb 22] at 7:00pm at Spinning Wheel, with Jason Rhind, Agathe Holowatinc, Maryellen Jackson, Charlotte Jones, Martin Hatfield, Tara Hines, Najib Chentouf, and Dr. Matthew Arnold set to present.
A spokesperson said, "PechaKucha Bermuda's 22nd edition promises short, dynamic and powerful presentations on topics ranging from non-cognitive learning, to hitchhiking your way to Bermuda by boat, to the artistry of spoken word and everything in between. Each presenter will be using a "20×20" format, in which 20 images are projected on screen for 20 seconds each, ensuring that our presenters keep their talks short and meaningful.
"2018's first PechaKucha Night will be hosted at the Spinning Wheel Entertainment Complex at 7pm on Thursday, February 22nd. While donations are encouraged in order to patronize and give back to the hosting venue, PechaKucha nights are always free of charge and open to the public. Doors open at 6pm so come early, get some food from a local vendor and grab your seats before there's standing room only. Jamaican Grill are offering a 10% discount to attendees who present the PechaKucha poster when ordering.
"Eight presenters include; Jason Rhind, Agathe Holowatinc, Maryellen Jackson, Charlotte Jones, Martin Hatfield, Tara Hines, Najib Chentouf, and Dr. Matthew Arnold.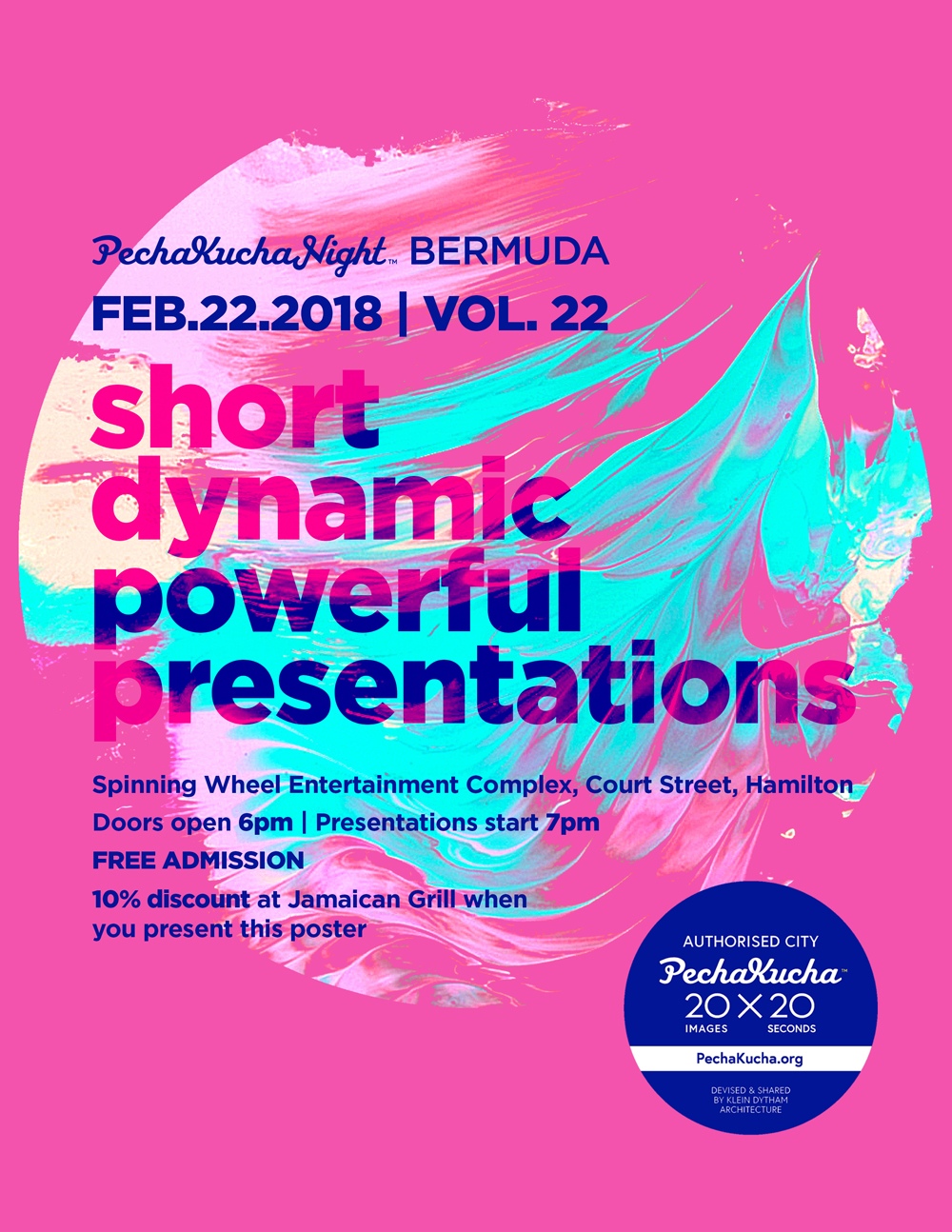 "The multi-talented Dr. Matthew Arnold's presentation 'It's Not Rocket, It's Not Science' will explore the artistry of the spoken word in his light hearted look at the power of language. While Jason Rhind wants to use his 7 minutes to start a conversation on the importance of non-cognitive learning in young people to help them reach their full potential.
"These two will be joined by health coach Agathe Holowantinc who hopes to inspire you with her story of publishing her first book on 'FUELLED'. Charlotte Jones's presentation, 'Adventures of Sailboat Hitcher' will take you along for a journey to Bermuda as she recounts her experiences hitchhiking on the waterways instead of highways. Whereas Martin Hatfield brings an interesting presentation that focuses on his quest for an individual artistic 'style' that spans his 65 years as an artist, pioneer and visionary.
"Hypnotherapist Maryellen Jackson's presentation "Discover the Power of Your Unconscious Mind" will explore the potential of hypnosis as a vehicle for personal transformation. Data Analyst at the Bermuda Health Council, Tara Hines, will be sharing her personal story of being diagnosed with MS at the age of 29 and hopes to show us how we can use numbers to advocate for people we've never met. Finally, our eighth presenter Najib Chentouf, will provide a brief look at creativity and celebration of Carnival and Festivals. His presentation focus on why we need these massive meetings of music, sound and people and how they're so much more than just a party.
"Anyone interested in putting forward a presentation for the next PechaKucha is invited to contact us at pechakuchabermuda@gmail.com
"Visit the PechaKucha Bermuda website here for more information
"Follow us on Facebook, Twitter and Instagram! Use #PechaKuchaBermuda on social media to spread the love!"
Read More About
Category: All, Entertainment, News