Following after their victory over Jamaica, Bermuda's Junior Davis Cup Team upset the number 6 seed Puerto Rico by defeating them 2-1, with Bermuda winning their pool to advance to the elimination round of the Junior Davis Cup Event in El Salvador.
Coach Ricky Mallory said, "This is an impressive result for our players and for tennis in Bermuda. It's important that the community recognize that this is no small victory, we are defeating nations that have a much wider pool of talent to pull from.
"It goes to show that our players that choose to represent Bermuda can and do get support and international exposure, to take their game to the next level."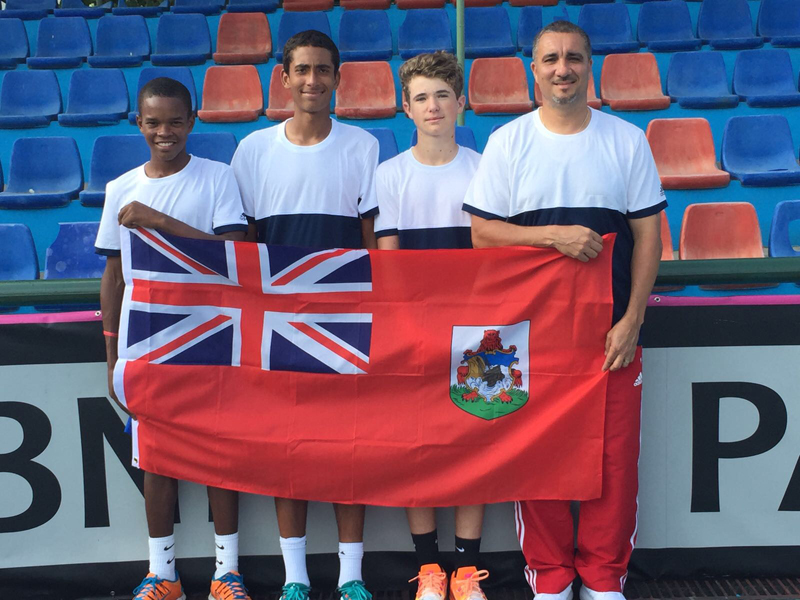 The matches were played on center court, with Tariq Simons up first playing Hector Diaz of Puerto Rico.
The first set Simons started a little tentative, and at one point was down 5-3 before battling back to win the set in a tiebreaker 7-6 [4]. Going into the second set, it was clear Simons was hungry for the win and kept his winning form taking the match 7-6 [4], 6-2.
Coach Mallory said, "I was impressed with Tariq's capability to clawback and win that first set. What a difference a day makes, he rose to the challenge and gave Bermuda an important lead going into our next match.'
Trey Mallory, playing in the no. 1 position, had a tough opponent in Jean-Luis Marrero. Marrero played smart tennis and pushed Mallory to the limit, with long rallies. Mallory had to fight for every point, and fight he did. Mallory secured the final victory for Bermuda winning his match 6-2, 6-4.
As Bermuda had already secured the win it was an opportunity to rest Trey Mallory, doubles was played by Simons and Redmond.
They teamed up to play against Hector Diaz and Andre Zequeira. The doubles didn't go Bermuda's way with Simons and Redmond losing 0-6, 3-6, but it was good for the team to mix up things with a new doubles pair.
Heading into the main draw, Bermuda will now face Aruba who are ranked three in the event. Their match will start at 8:30am in El Salvador.

Read More About