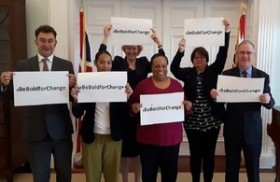 "I hope that the strong role of women in building this island's future will continue, achieving an inclusive Bermuda to which we all aspire," Governor John Rankin said today.
"Today, 8 March, countries around the world celebrate International Women's Day," the Governor said.
"It is a day where women are recognised for their achievements and a day where we celebrate the progress that has been made in achieving gender parity.
"It is also a day for us to reflect on the huge amount of work that remains to be done to unlock the potential of girls and women and commit to step up our individual and collective efforts to advance women's rights.
"The 1948 Universal Declaration on Human Rights sets out that rights are both universal and equally applicable to everyone, everywhere. Yet discrimination and violence against women and girls remains perhaps the single most widespread human rights abuse globally.
"It is therefore fitting that this year's theme for International Women's Day is "#BeBoldforChange". This theme seeks to encourage everyone – men and women alike – to help forge a better working world and a more gender inclusive one.
"By taking action to accelerate gender parity we can help women advance and unleash the limitless potential offered to economies the world over.
"Bermuda has a long history of empowering women in leadership roles. There have been three female Premiers since 1973 and numerous Ministers, Justices, senior civil servants and business leaders. This represents a significant contribution by Bermudian women in driving forward Bermuda's success.
"I hope that the strong role of women in building this island's future will continue, achieving an inclusive Bermuda to which we all aspire."
Read More About