Imagine Bermuda and Chewstick Foundation are collaborating in the observance of the United Nations' Day for the Elimination of Racial Discrimination on Tuesday, March 21st , a date that is also UNESCO's World Poetry Day.
"To this end we are inviting Island residents to join a 'two- for- one' celebration – Poetry 2 Progress – at the entrance of the Par-la-Ville Park – next to the Library, on Tuesday from 12.30 – 1.30 pm. A variety of local personalities will offer readings of poetry, prose and music, reflecting the theme "Respect for All", during this lunchtime gathering," a spokesperson said.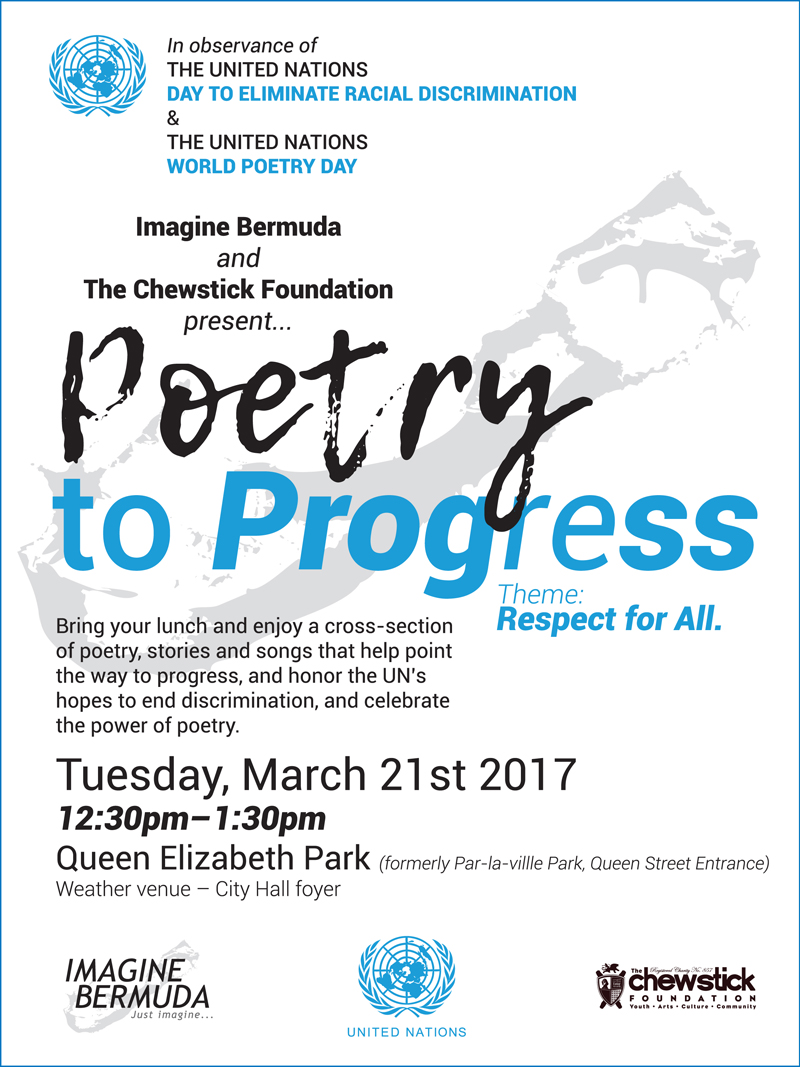 "Additionally we are inviting any and all in Bermuda, to take a small step further, in observance of the Day's significance. We Bermudians are famous for our "Good Morning" greetings; something we tend to do automatically, as we encounter folks on our daily paths.
"On this Tuesday we are inviting residents to make an extra effort to reach 'outside of the box' to a few extra people –not our normal 'crowd'- and offer them a particularly mindful "Good Morning".
"In leading to this observance we have already reached out to local educators, introducing them to UNESCO's "Teach Respect for All" program.
"This free online material provides videos and work-books geared to empower students in addressing the challenge of discrimination across the dimensions of race, class, religion, etc.
"UNESCO's experiential approach facilitates diverse global communities in optimizing their school cultures and leverages the restoration of the 'climate' in wider societies, thus helping young people with challenges such as bullying.
"All students across Bermuda are being offered an opportunity to participate in the observance as schools from Somerset to St. George are being invited to "pause" on the afternoon of March 21st at 3.25 pm, in order to reflect on the theme of the Day "Respect for All".
"Over the next weeks and months, we are looking to expand this collaboration with school families, with the goal of offering sustained opportunities for students to nurture respect for themselves and all others."
Read More About
Category: All, Entertainment