After a successful first season of programs in New England, America's new 200-foot tall ship — the SSV Oliver Hazard Perry — is on its way to Bermuda on a voyage hosted in partnership with Ocean Navigator magazine for adults learning the skill of offshore celestial navigation and marine meteorology.
With a main mast that towers 13 ½ stories high, 19 spars, 20 sails and seven miles of running rigging, Perry will be quite the visual treat for island residents and visitors during her four-day stay in Bermuda.
SSV Oliver Hazard Perry under sail, photo by Jan Forest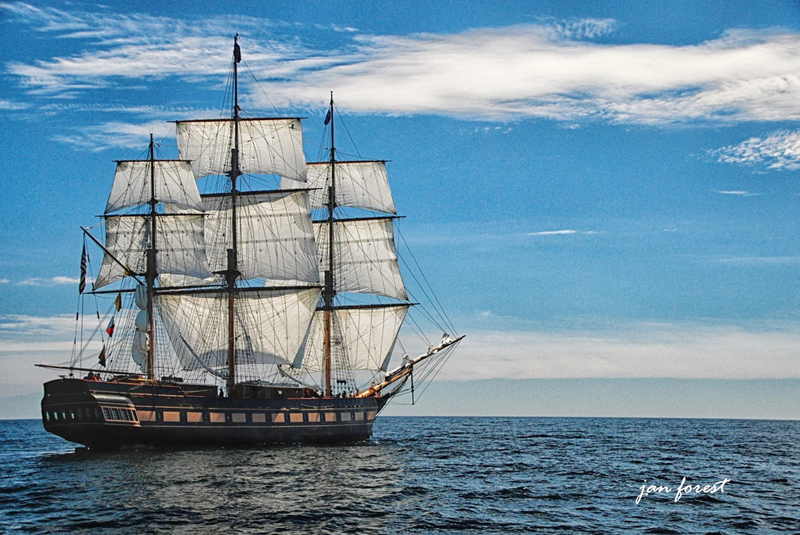 "2017 will be a historical year for SSV Oliver Hazard Perry; we are so proud of how far our programs have come and the exciting schedule ahead of us," said Oliver Hazard Perry Rhode Island [OHPRI] Executive Director Jessica Wurzbacher.
"Simply visiting somewhere like Cuba and Bermuda is exciting in itself, but it's quite another thing to arrive on a Tall Ship where you have been fully immersed in the adventure and responsible for actually getting yourself there."
Wurzbacher explained that Perry is a USCG-approved Sailing School Vessel, and all who participate in her sailing programs become part of the crew.
"No one is a passenger. Instead, everyone lives aboard and works side-by-side with professional crew to learn square-rig seamanship, including bracing the yards, steering the ship and even going aloft if they wish to do so," Wurzbacher said.
OHPRI's mission is to provide innovative, empowering education-at-sea programs that promote personal and professional growth. The mission is achieved by partnering with schools, organizations, and universities for unique experiential learning opportunities that incorporate STEAM [science, technology, engineering, arts, and mathematics] educational concepts.
Named for U.S. Navy Commodore Oliver Hazard Perry, the SSV Oliver Hazard Perry is a brand new 21st Century Tall Ship that has been eight years in the making and was completed with $17 million in private funds.
The 200-foot tall ship is scheduled to arrive in Hamilton Harbour this Sunday, April 9. The ship is Rhode Island's Official Sailing Education Vessel and the largest of its kind built in thie USA in the last 110 years.

Read More About