[Written by Dr Kuni Frith-Black]
The Bermuda National Library has taken on a new educational persona these days. The Library has moved toward hosting a number of educational presentations to get the community reacquainted with a centuries old institution.
The new energy and ideas floating through its walls features a number of 21st century upgrades including WIFI and computer access. It is still the home of research, important books and historical records but these days the library features interesting and lively speakers and authors.
The knowledgeable team at The Bermuda National Library are nothing short of amazing. They are helpful, welcoming and eager to assist in any way they can. Most of us remember librarians as older ladies with glasses and hair buns neatly tucked at the back of the head. They always looked over their glasses when addressing you and would snarl "QUIET "when you broke the code of silence.
The Bermuda National Library team are upbeat and motivated, taking the library environment from traditional to a more modern high tech level. One of those enthusiastic staff members is Miss Ellen Hollis who came up with the idea of hosting a tea event. Ellen heard about tea pairing and came over to the tea house on one of her fact finding missions. Ellen loves to learn about interesting topics and new things….after all she is a librarian.
I have had the pleasure of working with this phenomenal team on a few occasions conducting presentations on Complementary and Alternative Medicine and medicinal herbs. My most recent presentation will be on tea pairing along with a tea tasting event.
Herbgoddess Teas & Medicinal Botanicals has partnered with the Bermuda National Library for a fund raiser on Tuesday, April 18, 2017. The evening will commence with a talk on tea paring and the culinary uses of tea. Many people think that tea is meant for drinking only, but tea is incorporated into many delicious entrees and desserts.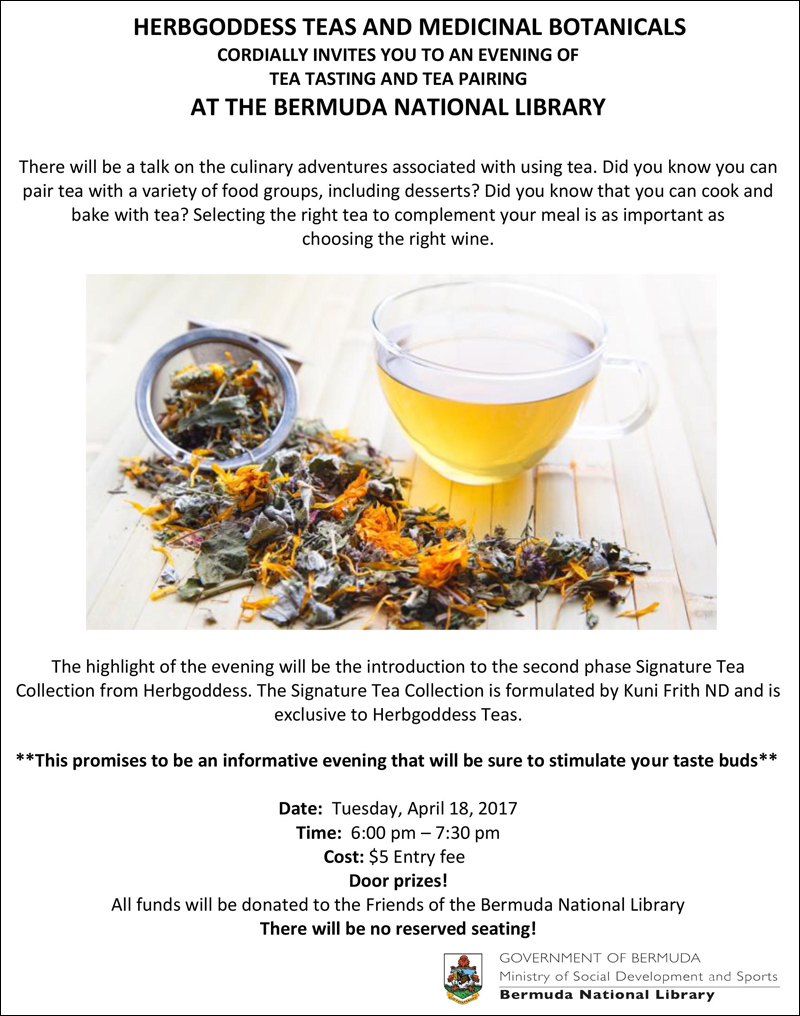 Herbgoddess Teas will also launch its Signature Tea Collection at the conclusion of the talk.
Customers and newcomers to the Tea House would often ask me 'what is your most popular tea?' I would tell them that is a difficult question.
People have different palates when it comes to tea. Some people like black teas while others like herbals, white or green teas. With the introduction of the Signature Tea line, I can now say our number one tea is from our Signature Tea Collection. It has been amazing to see how people have responded to my blends. It is also a time consuming and tedious process to reach perfection.
Anyone can combine herbs to make a tea, but for me as an herbalist the chemical composition of each herb is paramount. It has taken us almost two years to complete the first and second phases of our unique collection. We look forward to completing our full collection by the end of 2017.
Many of today's commercial blends of tea found in grocery stores and other retail outlets are masked with artificial flavors, sweeteners, food colorings and preservatives to create a specific flavor. So many foods and beverages are created in a lab to meet a specific flavor profile these days. Folks don't pay much attention to how these products are made.
At Herbgoddess Teas, we use freshly dried ingredients with no additives, preservatives or food colorings. We do not serve tea in our retail space with sugar, cream or milk. We want our customers to have a full on tea experience that does not alter the sense of taste with additives.
When tea is masked with additives, it loses its true flavor profile along with all the beneficial health properties and potency. A full on tea experience encompasses all of the senses and allows the customer to taste the subtle notes associated with a particular tea. Subtle notes are the underlying flavors in a tea such as malty notes, smoky notes, floral notes, citrus notes or vegetal notes often found in green tea.
Persons who attend the talk will become better informed on the many medicinal and culinary uses of tea. The evening will conclude with a tea tasting and a draw for door prizes.
Tickets are limited at the affordable price of $5.00 per person and are available at the Bermuda National Library. For further information please contact the Bermuda National Library. All proceeds go to Friends of the Library.
Read More About
Category: All, Entertainment