[Written by Marisa Whitecross + Updated with photos] The Bermuda Relay for Life event is now underway, with the 24 hour walk seeing people give their support for cancer fighters and survivors, while helping to raise funds.
Relay for Life is bringing together the community of Bermuda at the National Sports Centre from 6pm Friday until 6pm Saturday, with team members walking around the track to celebrate life and to remember loved ones affected by cancer.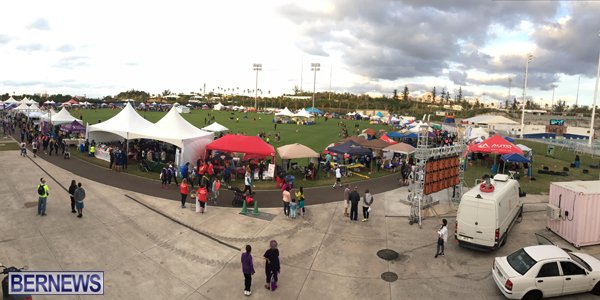 It is truly a fun event with amazing spirit. Tents are set up with different themes and games.
One tent is displaying a Hogwarts theme organized by Amy Greenslade who said, "We are all affected by cancer and we participate every year and each year we try to have a fun theme, this year being Harry Potter and two years ago was the Flintstones. The smaller details the better, so we wear costumes and just like to have fun."
22-minute live video replay showing the Relay for Life
Another tent was organized for raffle prizes, costing $5.00 a ticket with the largest prize being a motorbike. This tent is decorated as a 'candy land' and one of the members Margaret Palmer said, "A group of friends got together and with two survivors on their team had the goal to raise money for cancer." This is their third year participating, and she added "everyone is touched by cancer somehow."
.
Hosted by the Bermuda Cancer and Health Centre, along with title sponsor Ironshore, 95% of the money raised through Relay For Life of Bermuda goes directly to fund the new radiation treatment initiative. The remaining 5% is used by the American Cancer Society to fund their global cancer initiatives.
The theme this year, is 'One More – One more dollar raised, life saved, hero made.'
Click to enlarge photos:


Read More About